just came back from
gothenburg
yesterday!
so happy to be back in klostergarden
not that gothenburg was a bad place
it's just that klostergarden is kinda like home, for 5 months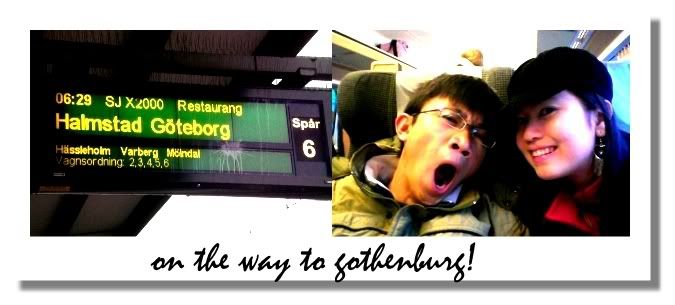 on the way to gothenburg
super tired la, cos we woke up at 5am
and walked to the train station to catch the train at 06:29
we took the
sj x2000
, which is supposedly very fast
but it sucks man! it went too fast such that the train keep vibrating!
how can i sleep when i have a
vibrating chair
?!?
but in the end, i still fell asleep after like 1hr
we reached there at 9+, so nothing was open
and it was a gloomy and rainy day :(
so we kinda stoned at nordstan awhile
before heading to the tourist office to purchase our
gothenburg pass
!
245sek
, quite ex, but overall, it was worth it
we went to check in at the hostel first,
dalagarde varnhem
it is pretty far away, about 20+mins from the city area
but it's quite a nice place overall
it looks pretty much like a hotel actually
they mainly have private double rooms, and only 1 dorm room
but it's okay cos we got the whole dorm room to ourselves!
and there is also tv! there's quite alot of english shows actually
like antm (but it's cycle 6), sex and the city, the illusionist, etc.
then we headed for our first stop:
universeum
!

it's a nice place! much better than the singapore science centre!
lots of things to play with, but we just din have so much time there
and there were many little kids to 'fight' with also la...
then we chiong for the
paddan boat cruise
! :D

and good thing it stopped raining!
but the seats were kinda wet la, had to use their blanket to wipe it
and we got abit wet when we were heading back too, cos there were strong winds
also good thing for the blanket which kept most of me dry
there was this part where the bridge was super low
so we had to squat down la, can't sit on the chair
gh was super funny, he was like ducking from a grenade or smthg
first time see him move so fast eh
i haven even get off from the seat, he already hiding le
must be the army training eh...
and after the paddan tour, we went to one of the southern archipelago called
donso
!
it was dead boring there
din find the scenic path to walk cos we din see the map initially
so well, we kinda just walked around, and took the next ferry back to mainland
then it was macs for dinner and back to the dorm
where we watched some shows, before going to sleep
and the next day, it RAINED AGAIN!
actually i wanted to go to the
Garden Society of Gothenburg
cos apparently there were many nice flowers there, like nice rose garden!
but since it was raining, end up never go
so we slack around in the hostel for abit, before heading for
Maritimam
it is actually like 12 vessels, which used to be warships or smthg, and submarines, where we can go in and look around
i'm definitely not cut out for army... it's so difficult to climb up and down on those narrow steps! ugh!
and i was quite afraid to climb down into the submarine initially cos dunno where to hold leh! haha, gh say i was in such an awkward position
but at least i made it!
and i was v scared to fall into the sea also
SEA LEH! confirm got
sharks
la!
i mean, even swimming pool i also think got sharks le
in the SEA??? omg, i was damn scared to trip over and drop into the sea and drown :(
but i think i'll be frozen first cos it was kinda cold la!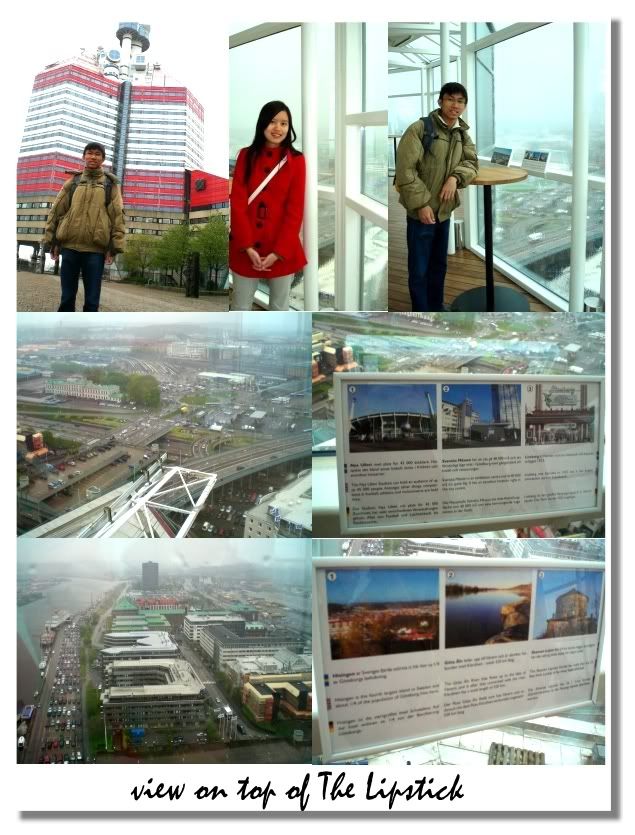 then we went to the lipstick
to check out the view from 86metres above sea level
which only equals to 22 stories?! no big deal man...
and it was raining also la, so we cant see very much
but anyway, it's included in the gothenburg pass, so okay la!
then we had lunch at pizza hut, pizza hut buffet
which was super not worth it, should have ordered ala carte instead
and soon, we left gothenburg!
we took the sj intercity train this time and got to sit
FIRST CLASS
!
dunno why also la, we bought a 2nd class ticket leh!
there was plenty of leg room and it was pretty smooth ride though it took slightly longer
i slept all the way though
and it was back to klostergarden already! :D