i just got myself onto twitter, and now, there's gonna be this new thing going to be launched
and it is
GOOGLE WAVE
win already lor, need to sign up again... once it is launched
seriously man, these things are going way too fast!
it's like soon, twitter and facebook are going to be obsolete (possibly la...) once this is launched!
Google wave is essentially a combination of email, photo sharing, messaging, etc.
read other reviews that twitter and facebook better watch out if google wave is here
it's not launched yet, probably at the end of the year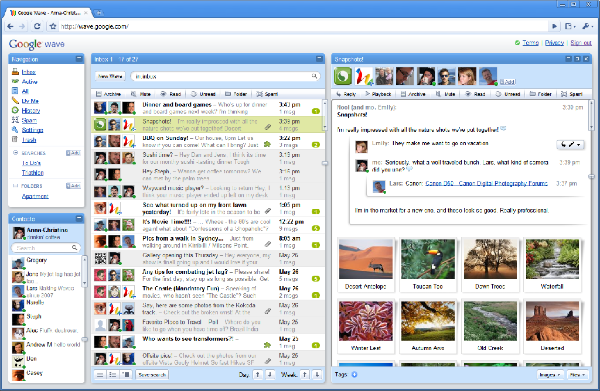 this is how it'll look like
grabbed the picture from the
official google blog
i think it is seriously not bad!
though i don't really know that much about it
they did publish a video to describe all about it
yeah, it is like 1hr 20mins long, so i couldn't be bothered to watch
i shall just wait for wikipedia to post "what is google wave"
haha, easier to read u know!
but for now, i need a NEW LAPTOP first before
cos i'm using a second hand one now, so i've not downloaded lots of stuff that i want
like google chrome, etc etc etc