finally taking the time to write my entry for the
nuffnang gss
contest!
really hope i win :) i can do wonders with the money... haha!
Do Singaporeans Dress Badly?
*sigh* it seems that singaporean's dress sense is like a big issue in the country
because this topic will follow us through our lives!
when in secondary/jc, people comment/criticize about how girls' skirts are too short
when in university, people comment about how little girls wear (spag straps/tube)
when hanging out in orchard, people comment that singaporeans dress shabbily
when you are around middle age, people comment about how 'act young' you are dressing
when you are old, the younger generation will say that you have 'no taste'
it's never ending!
some pictures taken when shopping
usually there's not much pictures, because, well, SHOPPING what!
well, looking at it, i don't think we dress badly at all!
however, i think there are some reasons which lead us to dress in a certain way in which other people criticize as
'BAD DRESS SENSE'
or
'CAN'T BE BOTHERED'


Reason #1: the AMAZINGLY HOT weather in Singapore



this was something that i realise by being overseas for exchange programme
gh helped me to realise this point too actually :)
the hot weather in singapore makes most of us want to dress LESS and COMFY
it is practically impossible to wear long sleeves and walking down orchard road unless u want to have a sweat print on your blouse...i think that's pretty gross!
wearing a tank top and shorts is like the perfect combination for hot hot singapore
this makes it seem as if singaporeans can't be bothered with their dressing
a pure misunderstanding!
in colder countries, where there are 4 seasons, people easily have 4 wardrobes
one for each season, and it makes them appear to be more bothered with dressing
being in a cold country gives u lots of options to accessorise what you are wearing
you can match your clothes with gloves, scarfs, nice coat, ear muffs, caps, etc etc etc!
looks not bad? i love my red coat btw!
i bought it from some online spree!
anyway, back to the topic
can u imagine people in singapore wearing such clothes?
we will dehydrate, melt, and boil under the sun!
yup, so don't blame us, we're doing the best we can to dress nicely
it's just the weather! give us winter and snow, and you will definitely see a change!
Reason #2: Singaporeans do not have a unique sense of style
our style is really based on what the celebrities wear and what we can find in shops which is similar to theirs
for example, blazers seem to be in this season, due to celebs being in them
and you notice many online shops selling blazers
there are also certain fads in which singaporeans like to follow
but this will die off after some time
like the Little Miss tees craze awhile back?
i had like 3 of them, in which i basically do not wear them now
perhaps the confusion in our dressing makes others feel as if there is not a strong fashion sense in singapore
we basically just follow or TRY to follow (sometimes may follow wrongly you know...)
and to save money and not follow such trends,
it's safe to just stick to the same old plain stuff
which may appear boring to others
Reason #3: Singaporeans are still PRETTY conservative
this is probably not such a strong point, as singaporeans are really changing
just a walk along orchard road and you'll probably see punk hip hop clothings too
but the problem lies in the
STARE of others
i've been watching gossip girl recently
and blair and serena are always decked out in the most sexy or coolest outfits
which makes me so jealous and feel like wearing them too!
but can u imagine someone wearing blair's flower dress and walking along orchard rd?
sure to attract like a million stares, and perhaps even insults like 'crazy'!
even the bright red leggings will cause you to get weird glances from people
sometimes, you don't even have to wear something so loud to attract stares
i've worn stuff like newsboy caps, short dresses, shades which has caused people to stare
or sometimes friends will ask like "woah, why you wear until like that today?"
it gets a bit difficult u know, so sometimes it's easier to wear simple tees!
so cut us some slack!
if you want us to dress nicely like the STARS,
then stop the STARES, accept our dressing!
Reason #4: we like to be comfy!
orchard road is really quite a long street
especially if you shop from plaza singapura all the way to far east plaza
which is something that i like to do :)
so sometimes, it is really important to wear something that we are comfortable in
like flip flops for example!
don't think there is anything wrong with slippers
looks quite matching with my mini skirt right!
and slippers are fast to wear too, and you will not have blisters unlike wearing heels!
heels are really elegant, but to walk for such a long time in it is really dreadful!
especially when you still have to take public transport home!
orchard has like limited and EXPENSIVE parking and with erp and all that, it is really quite a pain to drive there!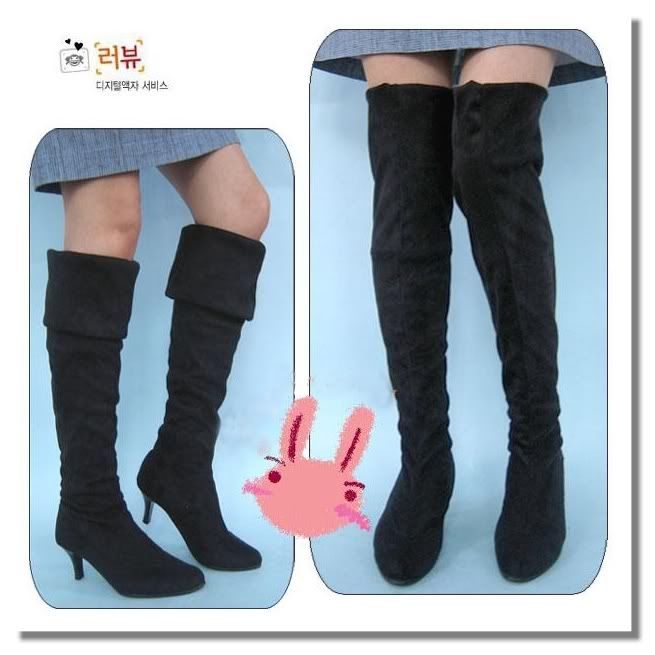 i really love boots actually
but wearing this to go shopping, well...sounds like a feet full of blisters to me!
reason #1 and #3 also come in handy in the case of boots
it's too hot to wear boots
and the moment i wear boots to orchard, i think i'll be stared at wherever i walk!
which is really uncomfortable, as uncomfortable as the blisters it is giving me!
aside from footwear, it is also difficult to wear those long elegant dresses down to orchard, totally not practical!
these are pictures taken last year during some christian dio make up event
i think jean danker's dress is suitable for orchard though :D
i like it alot! and her heels are NICE!
but not practical for a shopping trip in orchard... too high and painful!
Reason #5: orchard road is not very prestigious actually

it really is not! it is just a shopping belt where everyone goes!
it is not like gossip girl's upper east side or something, where all the rich and mighty go in their limos
people should not judge by what we wear to orchard, but to see whether we are able to dress appropriately for the right function!
i mean, if you go to prom, you will not wear tee and shorts with flipflops right?
jc prom!
look how dressed up we were!
totally appropriate for the event!
after prom
well, it makes sense to not wear my golden dress out everywhere right?!
it'll definitely be too overdressed for a shopping trip down orchard road!
these 5 reasons sum up the reasons why i think singaporeans appear to dress badly
i think i dress up pretty decently when going out actually
at least i do look into the mirror like 3 times to ensure that i'm proper :P
i usually wear shorts or skirt to school, and jeans / dresses when going out :)
i love dresses! it is like an easy one piece wear
just match it with some accessories like earrings/necklaces, done!
and i think it's easier to go shopping in dresses too
you just need to take off one piece in the dressing room you know...
make up...well, i'm too lazy to apply it sometimes
though now i'm trying to apply it daily because i've too much make up at home
it's like piling and piling but i never finish using them!
but i think make up isn't really necessary sometimes? it'll probably just melt in the sun anyway
however, i do like to do my eyes :D
at my ultimately lazy point, i like to wear my pjs out actually!
because i wear tee and shorts to sleep, which makes it quite presentable when wearing it out too!
that red shirt is actually my sleepwear... haha!
i may not look as nice as my other friends but i think i look fine wearing this around orchard!
just match it with shades and an appropriate bag!
it'll look ridiculous if i carry a tiny handbag together with that!
it's all about matching!
i don't see a problem wearing my pjs out
yeah, i know it's lazy, but well, it's comfy!
but i guess it depends what sort of sleepwear do you wear :s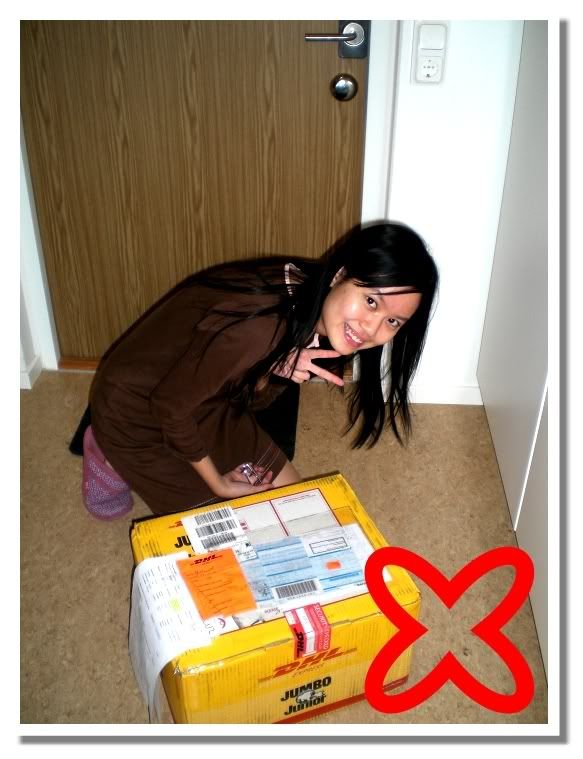 that is actually a brown sleepdress
and that is a no-no to wearing out! it looks really out of place!
(but admittedly, i've worn it out before, just throw on a jacket...but i was going nearby! :P )
if u wear pretty camisoles or nightgowns, well, actually i think the short ones can be worn out... not the long ones though, it's abit weird in singapore
looks normal when i match it with jeans right!
if need be, can just add a tiny cropped jacket at the top
and it'll look great!
and i shall end my two cents worth here,
i guess what is important is not really what we dress, but to be
comfortable
about what we're wearing, and to have a
great time with our friends
!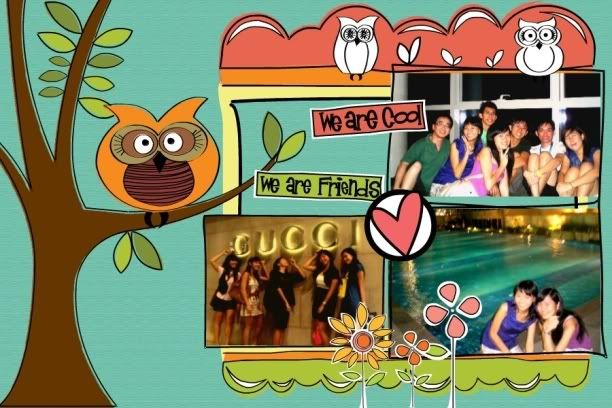 because having a great time is the most important! :)