okay, i'm
FINALLY
ready to blog about my 10 day trip
have been uploading photos onto facebook, fb, and compiling them la!
took a few days can!
so the trip started on wednesday, where we headed towards malmo airport via the airport coach. we were gonna take
WizzAir
from there, because it was cheap, and there was no transaction charge through ibanking (at that point in time)
the airport coach costs
79sek
for students
quite expensive i feel, and it only leaves at certain timings
if only there was a direct train to malmo airport!!!
we had to take an early bus and ended up stoning at malmo airport
had egg sandwich for lunch, and played dai dee for super long
the wizzair flight was not delayed, however the seats were not very clean
and the engine was
SUPER NOISY!
even noiser than the easyjet flight!
anyway, soon enough, we reached BUDAPEST
took a bus from the airport (cost 290huf) and then a metro to Kalvin Ter
from there, we kind of got lost, walked quite awhile before we found our hostel
the hostel is actually a person's home, converted into a hostel
well, not exactly v happy with that, prefer a normal hostel u know
but at least we had a room to ourselves, with common bathroom and toilet
which were separated, so sometimes it's quite troublesome
and the bathroom is actually a bathtub, and the temperature of the water was SUPER DIFFICULT to control! din really like the bathroom at all...
it was around evening and the sun was still up, so we decided to head out to walk around and also to find dinner
we walked super far, crossed some bridge (forgot the name), took photos there
and walked from the PEST side to the BUDA side
and had to walk even further before we found any food!
and due to lack of money, we ended up at...
macdonalds
it's like my staple overseas food already
dunno what to eat, just go macs
however, the fries here is disgusting... dun have the macs taste!
i was like super duper disappointed!
and u have to be a customer to use the toilet
cos u have to key in this code before u can enter it!
imagine if u're rushing for the toilet and still have to key in some stupid pin!!
after resting our feets at macs, we headed for the
Chain Bridge
which is supposedly an iconic landmark in Budapest, a MUST-SEE on many travel webbies
night scene of the chain bridge
most pictures were taken using gh's camera, cos mine is just too shaky for night mode and the colour is also not very nice :(
i want a new camera!
we actually visited the bridge on the death anniversary of the soldiers
there was some write up on the bridge, and amazingly, i actually read it and saw the date...
well, the chain bridge was not very impressive to me
but it's pretty nice at night
because it was the only bridge lighted up, all the other bridges were like dark
the next day, we headed for
Heroes' Square
another landmark in budapest
i insisted on walking, because according to a travel article on The Straits Times in conjunction with the NATAS fair, we need to "walk to really feel the city"
retarded article.
my mummy mailed it to me la.
it is definitely not a walking city pls... it's much better to take the bus
it's like super tiring can! and the sights are basically about the same?! haiz.
better to just take public transport!
but public transport is super crowded, esp during peak hours, everyone is packed like sardines!
heroes' square! well, it's just a touristy landmark
though i still think the brandenburg gate (berlin) is more impressive looking
the whole place is kind of like a park, so we walked around it
cos i was in search of the
Statue of Annonymous
, which i read on wikitravel that it is a tourist landmark and stuff
some museum and the Statue of Annonymous
okay la, it's just a statue, not say alot of tourist there to take pics of it also
but it looks pretty scary actually :S
after the loooong walk, we headed for
Trofea Grill Restaurant
, again recommended by wikitravel...wikitravel is really my best friend when researching for travel, super informative!
it's buffet lunch or dinner, lunch is at
2799huf
, but need to give tips u know
about 10 to 20% of tips
so end up we paid 3100huf each
apparently there are 100 dishes, but i dun see it there!
it looked super nice on their website though...
http://www.trofeagrill.com/trofea-zuglo-english/trofea-zuglo-buffet-meal.php
there are quite a few grilled items, but it's kinda salty
they also have some birthday special i think
and ALOT of people celebrated their birthday there!
the birthday song will be played and the waiters will come out with flaming cakes!
quite a nice place to surprise people for their birthdays i guess
address:
Trofea Grill Restaurant
Erzsebet Kiralyne utja 5 1145 Budapest
easier to go their website to see though :)
as we were dying from walking, we decided to take a train down to the buda castle
and got pretty lost again as we were trying to find the labyrinth
end up, we took pictures with the parliament house first, another landmark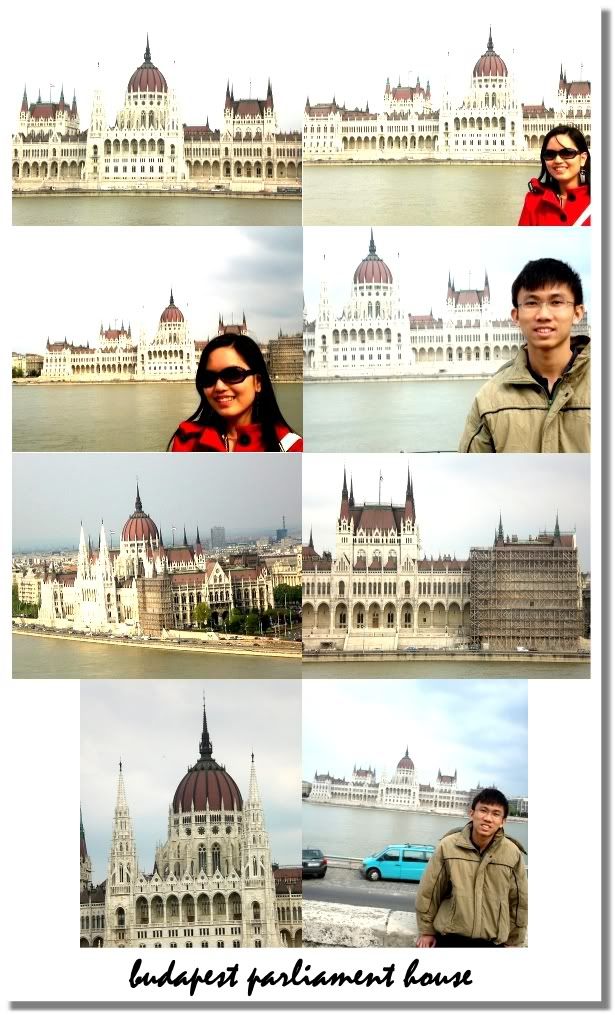 part of it was under construction
couldn't find a very good view to take photo too
there is actually this tower u can go to take photo, but have to pay
after walking for N hours, we FINALLY found the budapest labyrinth
it cost 1100huf if u are students, this is where the ISIC card comes in handy!
exchange rate is approx
1 sgd = 130 huf
sucky exchange rate through FOREX though
the labyrinth was okay la, something different lor
but not say very fantastic also
i think they never make it touristy enough
else there will be alot of people there le
and i din head into the labyrinth of courage because i humji la
on friday, we checked out from Maxim Doubles
and carried our heavy bagpacks and headed for a factory outlet,
GL outlet
well, IT SUCKS LA!
90% of the stores were CLOSED
there were no megasales
i wanna go back to berlin! b5 designer outlet! argghhh!
i still change so much huf lor, cos i thought i can go there and buy alot of things
which includes a watch cos my watch has stopped! :(
sian diao okay.
and that was not the end of the bad luck
when we headed back from the outlet, we got
FINED
!
cos we din validate our tickets, and gh tried to smoke through with a used single trip ticket
the idiot single trip ticket is really only for 1 trip with no change at all
well, i practically strangled him cos i was thinking he should have acted as if he was going to validate it instead of smoking thru with a used ticket!
that fine cost as 6000huf EACH! arghhh
46sgd
can!
actually, the idiot guy wanted to fine as 12000 huf, which is seriously cheating our money! cos i got see the fine list before, there is no such fine that is 5 digit! and not more than 6000huf actually. and actually, there's no stated fine for unvalidated tickets too! then he still say until like give us half price
then the receipt that he gave gh was only for 6000huf, instead of the combined 12000huf
which means he probably ate our money.
and he initially wanted to eat more somemore.
bastard.
i took a DAMNNNNNNNNNNN long while to get over it can!
46sgd leh! that's freaking alot can! i scrimp and save money, end up kanna fined!
stupid idiot!
in the end, we thought of it as a
"generous donation to a poor city"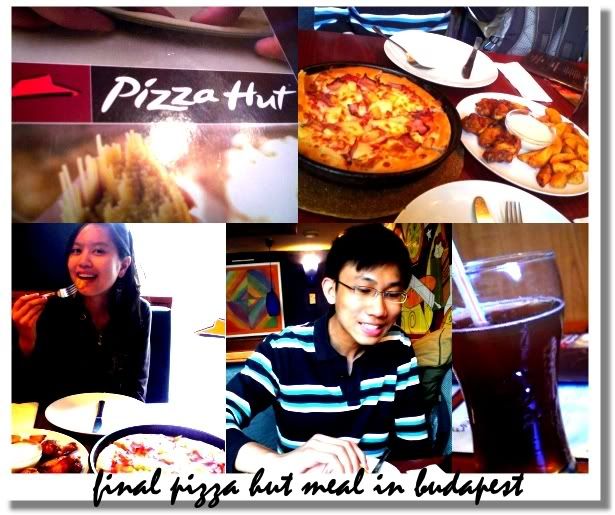 we had our lunch at budapest before heading to vienna via train
and we took the earlier train, because i was damn pissed off with budapest
and just wanted to get out of it
i even stepped on pigeon shit in the budapest train station can
disgusting! i hate pigeons! they should be shot dead!
on the vienna train, we met this china woman who was heading to vienna too,
but she actually want to go to graz.
there was an austrian guy in the same segment as us too,
and we helped the china woman to translate to the austrian guy,
and the austrian guy translated to the train inspector in german.
finally it was all sorted out.
a good deed done :)
we reached vienna at night and stayed in hostel hutteldorf
quite a nice place even though it is abit ulu
we were thinking of upgrading to private rooms, but there were no rooms available
and the dorms were actually pretty comfy!
and the toilets and bathrooms were clean too! even though they were common ones
so not bad! the free breakfast was also not too bad, pretty basic
if u want a better breakfast, u've to pay, which we obviously did not
the next day, we headed for Sconbrunn palace
it was super easy to get there because there's a metro station there
just had to walk abit to get to the palace but there were road maps around which were really helpful!
and it was also very helpful that there were MANY MANY MANY people/tourists heading to the palace as well!
we bought a classic pass, costing 16eur, which we were entitled a grand tour of the palace, and entrance to various exhibits like the pivoli gardens, maze, etc.
actually i felt that only the grand tour was worth it? could have just gotten the pass for the grand tour, it cost 12 eur only. but okay la, 4 eur more to see other things, not so bad actually... we got to watch a apple strudel show too
and had a small slice of apple strudel
the most not worth it was the pivoli gardens
cos it looks exactly the same as the picture outside
no difference, nothing extra to be seen
it was quite a nice hot day, even though the winds were very strong
well, it was a nice day till i ap-ed la, then it was not very nice le
which resulted in less pictures towards the end
haiz. it's always best when i dun ap though.
the days just seem much better if i dun think too much.
after many hours there, we headed back to the centre of the city at stephansonplatz
gh decided to eat macs (again) and i was sitting and waiting for him lor
then this group of vienna boys came and sat near me
okay, that's fine, there were other tables around
then one of them occupied MY tiny table
then i just POLITELY told him that someone is sitting there
and i had to repeat twice cos he couldn't get me
then one of the boys said sorry
another one called me "asshole"

wah lau, DAMN PISSED OFF CAN!
uncultured bastards!
so what did i do?
.
.
.
.
.
.
.
.
.
.
.
.
.
.
.
i glared at him -____-"
hahaha, so loser right, should have scolded him back
i wanted to whack him though, stupid boy
how dare he lor! i never do anything wrong can
uncultured bastard
who say that vienna is a very cultural place?!
just look at the offsprings!
i hope he fails his school exam, drop outta school, can't find a job,
get dumped by every girl he meets, ends up as a dirty beggar by the roadside,

and i'll go back to vienna and throw him a

1 CENT EURO

coin
and laugh at him

that's for calling me an asshole.
well, unhappy things aside,
it was Vienna City Festival, stadtfest during the weekend that we were there
so there were lots of street performances actually
and there was an amazing number of people there!
many tourists and asians too!
around stephansonplatz is also like their orchard road district
many expensive branded stores around
the roadside icecream is pretty cheap and nice too
gelatos!
1.60eur for 2 scoops
! i think not bad la
i had apple and chocolate, not bad!
next we headed for the vienna prater
i read on the website that it is a big park with more than 250 attractions
well, i din expect it to be an amusement park!
it was super big! but with many repeated stores
i think there were like 5 bumper car stations?!?
and it was super ex too! each ride cost like 2eur or 3 eur?! or more?!
omg, freaking expensive!
so i just look lor
not that i really wanted to go for any ride also
i prefer water ones
i dun like those dangling in the air ones
i scared :(
after walking around the big prater, we started to hunt for dinner
ended up eating at a chinese restaurant near the praterson station!
Restaurant City
! chinese buffet with teppenyaki!
i finally got to eat BIG tiger prawns! yummy!!
but the food was kinda salty
and there's no free drinks/water
so can't eat too much too
it cost 10.90eur for dinner
for lunch it is cheaper, 5.90 or 7.90eur
but can eat for a very long time for dinner, but we did not loiter
cos i wanted to buy chocolates from some stall
the next day was sunday, and it was an ultimately boring day
and we again had to carry our bags to walk around
and was super duper sian! ALL shops were closed and there was nothing to do!
ended up going to a free roman museum (only free on sundays) which we stoned around
ended up stoning at macs again after that
in the afternoon, we headed for the flughafen wien
to catch our flight to Brussels on
SkyEurope
the flight was delayed for 1hr! sian!
but overall, it was a nice flight experience cos the engines were quiet,
and they assign our seats during check in
so we dun have to like chiong up the plane
and it's at no additional cost
but the skyeurope ticket itself was freaking expensive... 84eur!
my most expensive ticket ever!
so it was pitch dark when we reached our brussels hello hostel
and we couldn't find it initially!
it was too dark!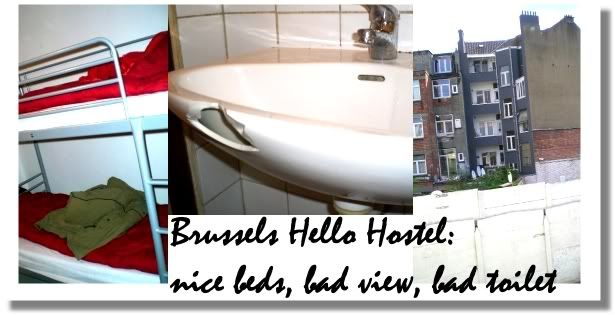 the rooms were pretty okay, the bed and the blanket were comfy
but the room lacked coat hooks! like where to hang our coats and clothes la!
other than that, the toilets and bathrooms were pretty dirty
look at the cracked sink! damn pathetic can!
the free breakfast was kinda like maxim doubles, just some bread and jam and coffee/tea which we can take
but what to do, the other hostels were super expensive
only this one was more affordable, and we were staying 3 nights there
and most of the hostels were also fully booked, dunno why
the next day, we headed for the atomium!
din pay money to go in la
just see can already
it's quite a big structure, looks not bad i guess
but no ideal place for phototaking!
next stop: mini europe!
it was a pretty wet and cold day
so we were kinda shivering as we visited the various exhibits in mini europe
i think it's not very nice? the shenzhen one i visited is nicer
of course in shenzhen it is not mini europe la
it's some mini world thingie, can't really remember the name
i felt that only the Big Ben looked nice and worth the pictures
we had lunch at Quick, which is something like macs
but it is pretty cheap because there was student meal!
haha, ISIC card rocks man! :D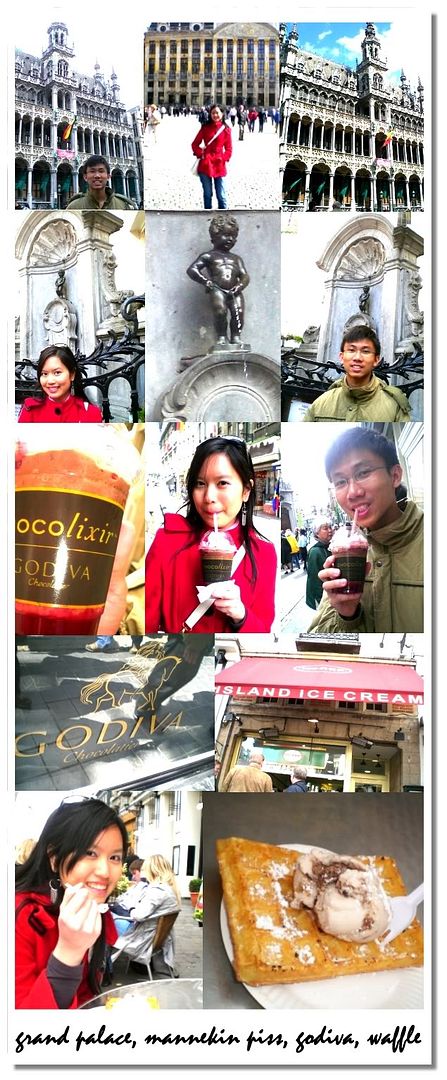 we headed for the city area and visited the grand palace, which is not very grand
and went to find the mannekin piss, which is so tiny, and many people were crowding around it
but the best find of the day was the godiva beside mannekin piss, which sold the godiva chocolate drink
omg, it was HEAVENLY! :D:D:D
we shared the dark chocolate with raspberry, and the next day, we came back for the dark chocolate drink! it was REALLY REALLY REALLY NICE!
4eur a cup, but not that bad cos we shared
i think it's quite reasonably priced?! just a bit more ex than starbucks
but it taste a MILLION TIMES BETTER!
we also went to try the belgium waffle, but nothing nice leh
maybe we went to the wrong stall?
i still prefer A&W's waffle!
the next day (tuesday already!) we bought the
24hr brussels card
and headed to various attractions!
first stop was to autoworld!

well, actually we visited the free military muesum before autoworld
because the military museum was open earlier, but there's nothing much la, it's like a collection of soldier-ly stuff, sian
but autoworld was equally boring i guess, just all the old cars...
though some are still present on our roads today, but it is like SUPER old la!
and the place was kind of uncomplete, there were some sections that were not open!
next stop: museum of natural sciences
there were so many kids running around! it's like we were at the wrong place can!
but it was okay la, many dinosaur fossils, some stuff that we can play with also
we went to eat lunch at subway, cheap and healthy!
cos we shared a 1 foot crab subway :D
and we began to search for the Scientastic museum
we walked round and round, end up, it was underground in the metro -__-"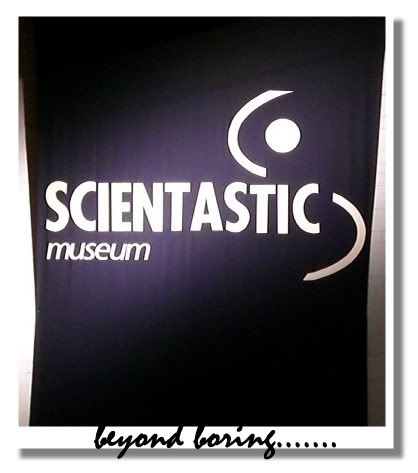 the reason why there is only one picture of the signboard was because,
it was super boring la
like cannot compare with singapore science centre
it just looks like a tiny playground for kids with some experiments which they are supposed to explore
but it doesn't amaze me at all
after that, we were heading to other museums where we witness a demonstration taking place
in fact, for the two days that we were in brussels, there was a demonstration EVERYDAY!!
omg la! but there were many police around
who seemed to be ASSISTING the demonstration because they cleared the roads for it?!
there were SUPER alot of people taking part in the demonstration
and seriously cost major road blocks!
i think they have nothing better to do -___-"
protest what protest la!
after watching the protest (which we have never seen before in singapore!),
we headed for the toy museum
it was pretty run down
but the old grandpa in charge of it was really nice
gh describe him as "the type of old grandpa who will still let kids in to see his toys even if they have no money to pay the entrance fee"
yeah, the place wasn't fantastic, but the old man was nice la
last stop: comic strip museum!
apparently a very popular tourist attraction
okay la, i think it's not bad, many sections
including a japanese manga exhibition
which i amazing recognise a few titles!
there was also like a tintin section, erotic comic section, gay comic section, etc.
the next day (wednesday!) we woke up super early to catch the train from brussels to amsterdam
of course this resulted in me sleeping in the train
and we had to rush to change train to head towards the hostel
cos i din wanna miss the new amsterdam tour at 1pm!
lucky lake hostel
initially, i hated it
because the shuttle which ferried us from the metro to the hostel costs 1eur each time we take it, and this was not mentioned on the website at all
i felt so cheated! cos that's like expensive u know, plus a single trip metro ticket cost 2.60eur! add up, transportation cost is ALOT, and it might be more worth it to stay in a more ex hostel in the city instead! haiz!
but subsequently, i kinda liked it, because it's away from the city, away from the chaos, and in a more peaceful land!
and the toilets and bathrooms are clean
but need to bathe at night
cos most of the angmohs bathe in the morning, so the bathroom is wet and a bit dirty in the morning
it is also quite a cool caravan concept, and much open area
the kitchen is also in the open area
and many wild animals like chickens and ducks around, ready to be eaten
the lake is not EXACTLY next to the hostel, need to walk for about 3 min
but there were alot of flies there
which resulted in us running back instead
sights from the new amsterdam tour
free tour again! of course we gave tips la
our tourguide john was super enthusiastic!
unlike us, who were super lethargic
it's quite interesting lor, but i was quite sad that the locals kept calling him "LIAR" throughout the tour! why can't they just let us be!
which is why the New Madrid Tour is closed now due to strong protest from some agency or smthg, they will hurl insults at the tour guides
haiz, seriously, where's freedom of speech
and u can't limit people for what they say, how about other overseas tour groups?
u may not know what the tour guides say also what!
anyway, the red light district is going to be closed in 2011!
so, well, weed/marijuana/spacecakes fanatics, go visit it while it exists
and also the girls in the window
which i though were disappointing, only saw a not bad blondie
some were fat, or old!
the tour guide told us that the oldest one is actually 75! omg!
we actually wanted to go for the RedLightDistrict Tour but it was not available due to queens day celebrations :(
throughout the tour, there were many mentions of the public urinals that guys have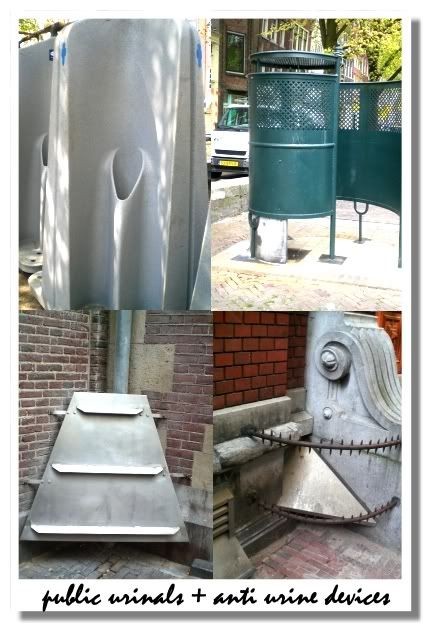 the top pictures are of course of the public urinals, and the bottom are anti urinal designs
well, i think peeing in the public is stupid. fullstop.
but that doesn't stop the angmohs from still doing it:
unglam/uncultured idiots.
maybe it's cos u've to PAY to use toilets in amsterdam
why can't it be free?!
i had to pay 0.50eur to use a toilet can! wth!
maybe public peeing can be solved by having more FREE toilets in cafes and shops
the next day was queen's day!
we woke up super late cos, well, not v interested in it also
i wanted to go to museumplein to see some structure (which i din get to see)
everyone dressed in orange!
many crazy people around
and strong smell of weed and smoke everywhere!
my life seriously cut short by 10 years just by going to amsterdam
retarded people smoking away
why can't they be locked in a smoke chamber, and smoke till they happy/die, and not pass second hand smoke to me and not cause me to get lung cancer?!?
i think if i go for a full medical checkup when i get back from europe, my lungs will probably be blacker than before
so it was pretty boring on queens day cos the streets were filled with people
and there wasn't much to do cos everything was closed
the next day, and the LAST DAY, we headed for the amsterdam sex museum with our very heavy bagpacks
gh almost died helping me to carry mine, because i stuffed alot of chocolates inside it, those that we bought from brussels, cos my bagpack bigger mah!
the amsterdam sex museum was nothing very exciting
i bet it's all stuff that u can find on the internet
however, i think the
animal sex section
is totally
DISGUSTING!!!!!!!
why do people wanna have sex with animals?!?!?
u mean they feel aroused by animals?!?!?
then start praying u get reincarnated into an animal or smthg!!
the most gross picture (in which many people took picture of) was this woman having sex with a SNAKE! and the snake was at her vagina, and it was FREAKING DISGUSTING!
wah, i felt super grossed out by it!
i hope the snake bit her, and poisoned that lunatic.
we had lunch at macs, where i was pissed off with the service
and we even had to pay for the MAYO for the fish burger?!
i totally din understand the cashier, i thought we have to pay for like ketchup packets so i said i din want it!
what kind of macs is this man! SUCKS TO THE MAX!
and since i'm complaining,
i need to show the picture of the sgd 5.20 SINGLE TRIP trains in which i took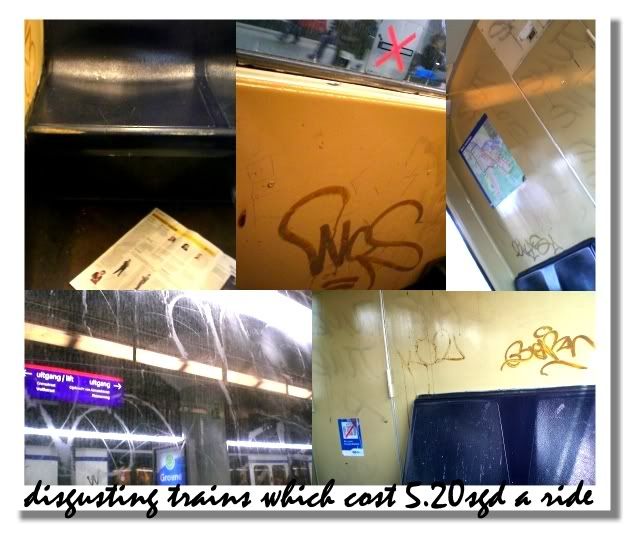 damn disgusting can!
i'll even complain if i've to pay sgd 0.50 lor!
it's times like this when i appreciate how clean and nice sweden is
and how much better singapore is
then we headed for the schiphol airport
which is a big international airport so it was not bad
it was the first airport in europe that i've seen with a water cooler
which is perfect as well
the control tower looks SUPER SIMILAR to changi airport ar!
i wonder who built it first
lazy to wikipedia it la
we reached back in copenhagen at 11pm, and there were no direct trains to lund c
due to it being a may day holiday, and there were no buses back to klostergarden too
end up we had to take a train to malmo c, bus to varnhem, bus to lund sodertull
we met 2 lost holland boys and kind of showed them how to get to lund
but when they reach lund, they still took a cab i think
cos it was so late already
and i've finally blogged finish about my 10 day trip
and it's time to bathe :)