kiruna 5th april to 7th april 09
i'm back from kiruna!!
and loaded with like
345pics and 7 videos
hahaha! amazing hor!
the journey started by meeting at the train station
where we took a cab to malmo airport
the cabs have fixed prices to malmo airport, so we went to survey many cabs before this
to find out which one was the cheapest
the price REALLY VARIES!
the cheapest we found is
Taxi M Lund (12 12 12)
which cost
319sek
to malmo airport, and
349 sek
from malmo airport back to lund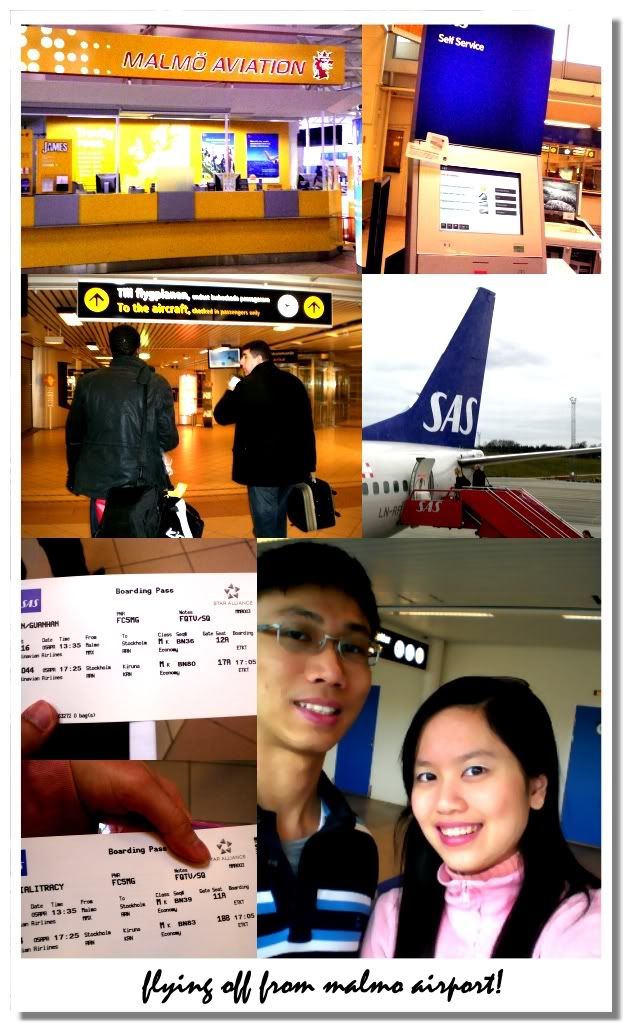 malmo airport is by far the smallest and most empty airport i've ever seen
perhaps it's a domestic airport that is why
but there was hardly anyone, and we had to do automatic check in
which was surprisingly super easy to do!
just one flaw with it: it does not allow u to check and confirm
like when u choose the seats, after u click 4 seats, it immediately go to the next page! so even if u choose wrongly... too bad man!
we were there pretty early, kiasu singaporeans u know
must check in 2hrs before time de
so we kinda stone around, checked out the
ONE dutyfree shop
and did sudoku from the swedish newspapers
yeah, but we got stuck at one point and decided that we sian already
and soon, the plane arrive!
taking SAS to kiruna, but it transits in stockholm
cost
2061sek for youth
which i feel is super worth it as compared to a train
cos the train takes
23hrs
from lund to kiruna?!
that is like CRAZY! i can fly back to singapore and fly to china and fly back to singapore again and it'll amount to the same time!
transiting at stockholm arlanda airport
which is a big international airport
though of course not as nice as changi airport
but it is still much better than malmo
malmo to stockholm took
1hr
only
ate macs because it is like one of the cheapest things there
then talk for abit in macs, the difference between france and singapore
abu thought that singapore is a big place cos many people know about it
but i told him that u can barely see it on the world map
and he is also stunned that gh went thru army and hold a live grenade before
after a 2hr wait, we finally head towards kiruna!
it was a
1.5hr flight
, fast right!
even though we had to walk from the plane to the tiny airport,
but it was not that bad actually, not that cold
maybe cos i wore sufficient clothing la
then we went to pick up our car at hertz
gh v sad that we never get a volvo, haha
cos on the website, it says volvo s40 or similar
yeah well, end up get a
ford mondeo
and i like the colour! :P
headed for our youth hostel at
Yellowhouse
which was seriously bloody difficult to find
all the general highway signs are fine and easy to see
but the street signs are like sucky?! they just put it on the house!
so difficult to see at night la! :(
and Yellowhouse should be painted a more significant yellow colour okay
maybe like the
pooh bear colour
will be perfect :D
cos there's like so many yellow houses around...
then after having bread for dinner, we headed to the nearby mountain
luossavaara
to hopefully see the northern lights
but it was like too bright despite the night sky being pretty clear with little clouds
but the moon looked super nice too, v round and like got a rainbow around it
but yeah, no northern lights so i was quite sad :(
then the next day, we headed for our
combi tour of snowmobile and dog sled
!
from sleddog.se! which i think it was like the cheapest?! found it by chance
a combi tour of snowmobile and dog sled cost
800sek
! well, it is actually like 895, but students have 10% discount. not that they checked our id whether we were students... but i dunno, haha, maybe we seem student-ish
i initially thought camp alta was the cheapest, with 750sek snowmobile tour to see northern lights. but well, that is ONLY snowmobile leh!
so we got suited up and i looked like a
puffed up shorty
!!!
cannot find the right size leh, so anything will do la
even my shoes were too big and it was SUPER heavy!
gh kept playing with the dogs lor
he say wanna make his sister jealous
i got 2 words for him man:
WU LIAO
:P
so me and gh went on the dogsled first while abu and reda took the snowmobile
the guide told us how to ride on the dogsled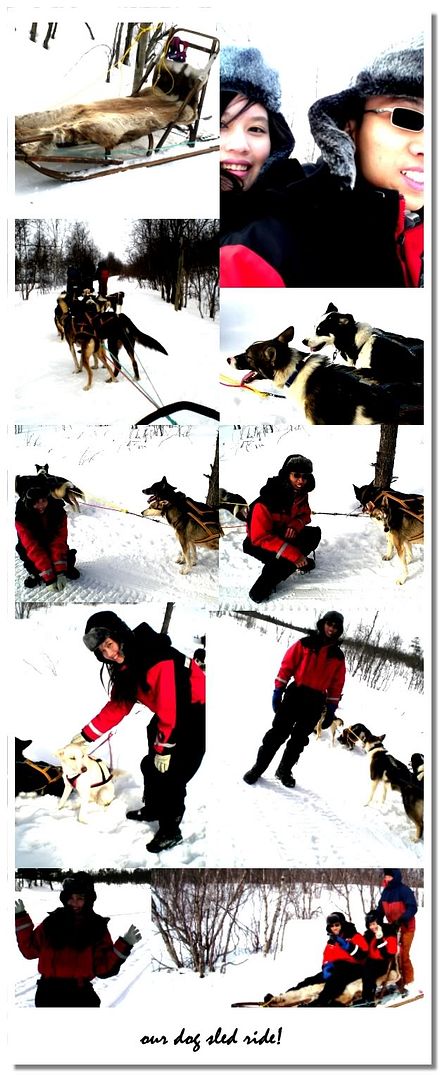 it was a relaxing ride seriously
no need to do anything, just look the the trails of white
actually, it's abit boring if it was too long (which it wasn't)
because there's no scenery?! it's just white mountains, that's it
however, when going through bumps, wah lau, it is super bumpy and painful on the ass!
haha, until today, gh's back still pain from it la!
and dogs keep shitting and peeing while running
their multi-tasking skills are quite fantastic
and because of this, i kept making gh sit in front :P
shield me from the shit