today had
reunion dinner
at my house! :D
had it earlier before i fly lor
later on the real chu xi night, my mummy too sad to cook le la :P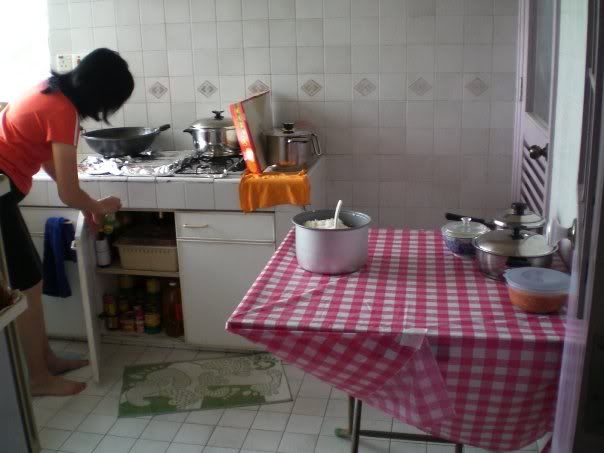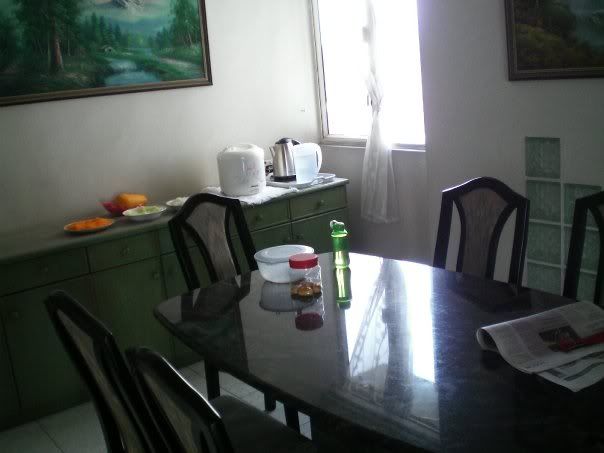 mummy started preparing early in the morning
at like since 6am, and she said she overslept le...
win le lor, think she wanted to get up at 5 to start de :s
i helped abit nia la
keep getting scolded initially, super frustrating
that's why i went out earlier...
fetched my ah gong to my house for lunch: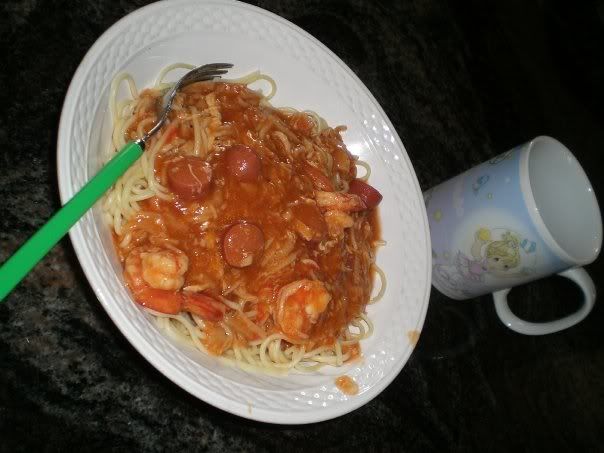 nice! :D it is chilli crab sauce lor!
and i know how to do le! :D muahahaha!
then my aunt jaq came to help out
which lessen alot of mummy's scolding on me, haha! :D
so subsequently everyone else came too
my uncle peter came with his big pro camera, by my request, haha!
cos i wanna take family photo mah
we have NEVER EVER taken a family photo before
and the ONLY family photo that i rmb is the one during uncle peter and aunty jaq's marriage which is like damn long ago?!?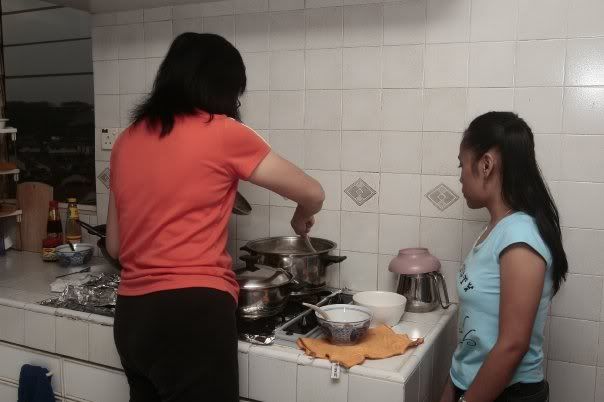 ana helping my mummy
learning also la haha
then it was time to lo hei! :D
i like to eat lo hei!
but we dun put the fish one
cos erm, not many of us eat, and i dun like
i think the "i dun like" part is main point :P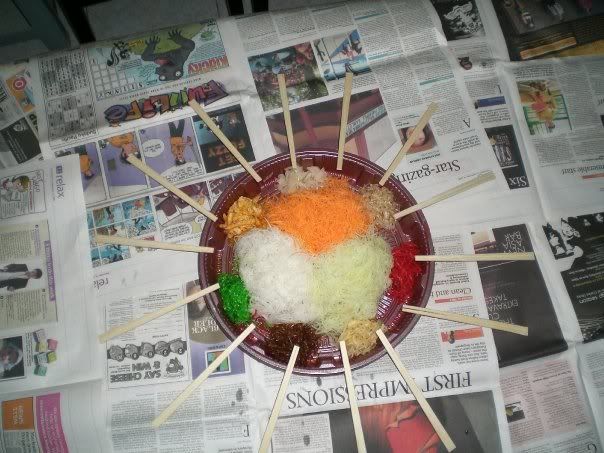 yayy! all mixed and lots of prosperous words said!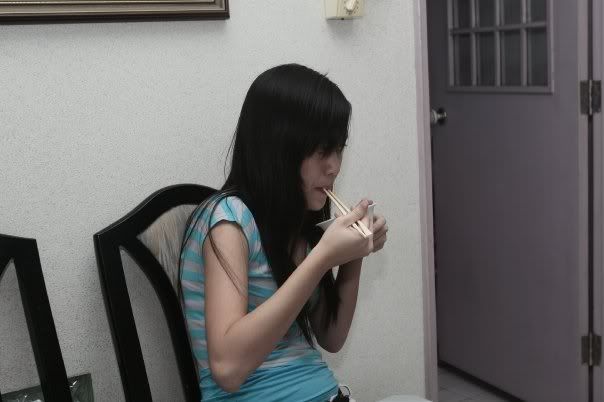 unglam pic of me eating my 3rd bowl of yu sheng i think :P
then after we cleared the yu sheng, the food came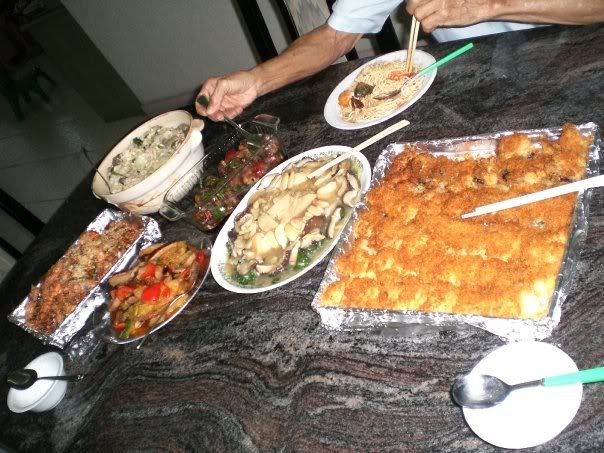 this is the highly popular chicken! :D
it got snatched up DAMN FAST LA! and, i also know how to cook it le :D
muahahaha!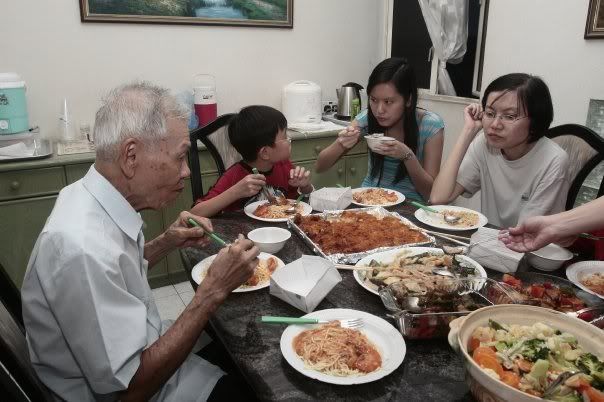 i looked like i was quarreling with ianian
but dun have la, i was probably making fun of him :P
we were snatching chicken wings
cos there were only 6
after that most of them went downstairs to walk
i was like too heavy to do anything
then after that they came back watch some tv
and before they left
we finally took family photo
with much reluctance.
*rolls eyes*
okay, photos first before i rant...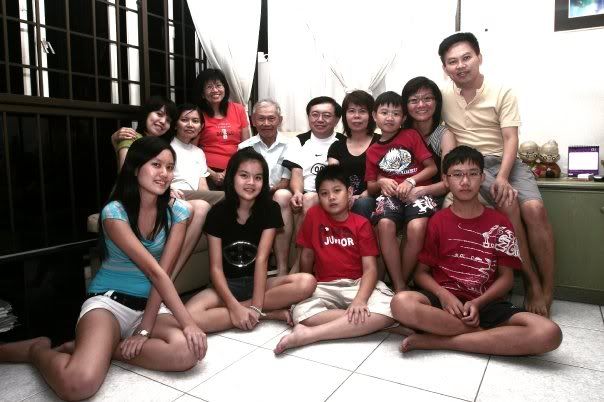 nice family photo! :D
but not everyone is here
my daddy, aunty siewfong, ryan are not in the picture
i think it's nice to take photos
cos they are captures of your memories
when one day u can look back at it, and laugh about it
or reminise about it
and now with digital cams, even better what, just take and delete
i think next time, when i've my own children, i'll be like taking N photos a day of them
instead of showing their year by year progress
skali i can show their hour by hour progress le :P hahaha!
and right, perhaps photos will be a good rescue tool,
in case u ever do lose your memory next time due to whatever la
choi la! but i mean, U NEVER KNOW!
but i guess, the only bad thing about constantly taking family photos,
would probably be cos u may see the family shrinking
like if we had taken family photos each year since day 1 when i was born
yeah, u'll see increase in family size, up to like year 1997
and start seeing a decline in year 2004 onwards...
i guess that could also be quite scary in a way... =S
anyway, took pics with my mummy:
i think there is a need to put heavy make up in front of pro cameras
else will look v white leh! even though it's cos i changed the contrast and stuff la
but hor! it will just look better with make up la i feel
ian took me with my mummy and eugene
haha, small boy with big camera eh!
and then, it was immediate download to my com!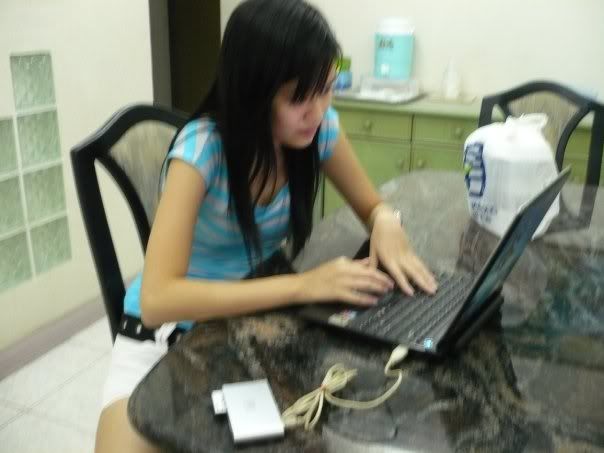 well, gonna leave really soon already!
my mum said i only have 2 more nights on my bed
and that's it!
fly le!