today was spent at home
why leh? cos at night got
The Little Nonya
last episode
hahaha!
aiyah, go out also dunno go where anyways!
and everyone starting sch/work le!
anyway, i woke up and had
pancakes
for breakfast!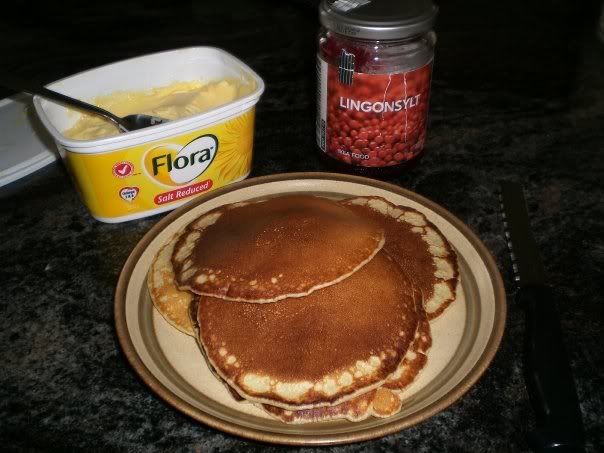 looks not bad right!
i dunno why the side not as nice la
i think cos the thing spread
and that jam is the ikea meatball that jam!
taste super nice with pancake!
i'm gonna buy it in sweden! :D
then for lunch (which was like 2hrs after breakfast cos i woke up late),
i had
macaroni
!
not bad right!
all my cousins love my mum's macaroni can!
come my house dunno eat how much la =S
i was gonna eat my
peanut butter cookies
for teabreak
but, erm i was way too full
but of course, there's always a picture of it! :D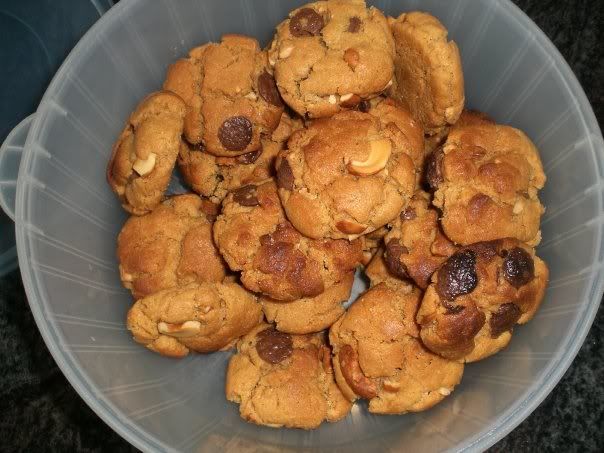 the choco chips need to be smaller though
so big not so nice leh
and i feel that i still prefer normal choco chip cookies
this peanut butter one never use flour one
so it was damn easy to make
but i think it taste okay nia
then for dinner, my mum went to sembawang to buy
salted egg crab
!
damn nice one! haha, and it's cheap, like $18 for a substantially big crab
and the meat is v good de, not those nua nua type!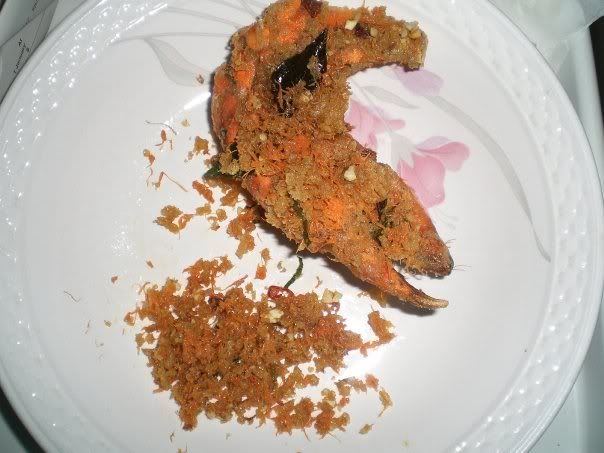 the pincer big anot!
this one was smaller, the other side the pincer was bigger!
i took super long to eat it cos i had to eat up all the salted egg strands on the shell too
for $18 it is SUPER DUPER worth it la! :D
my mum wanted to teach me how to cook rice on stove today too
cos we usually use the microwave la
and in the midst of teaching........
no more gas -_____-"
win already lor!
in the end still dump the rice back into the microwave to cook!
good thing it is today no gas...
cos on saturday we having early reunion dinner mah
if it was that day that had no gas,
my mum will faint or smthg...cos she has so many things to prepare!
okay, after all the lovely food pictures,
lemme show u some disgusting picture
can see what is that anot!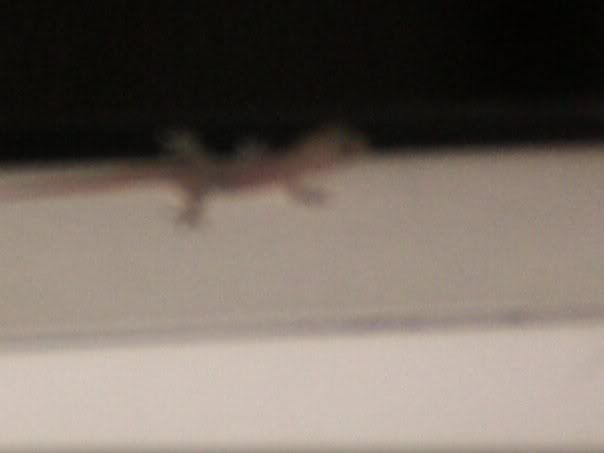 lizard on my window sill!
picture not very sharp cos i took it from afar and zoomed
i din wanna go too near to it
yesterday suddenly got this lizard on my window sill la
then good thing my ah gong was in my house
i ask him to help me get rid of it
he wanted to catch it but it suddenly crawled damn fast
so he swept it downwards la
muahaha, i hope it died after free-falling for 10 floors :P
before that, he also help us get rid of some cockroach
which was half stuck in the rubbish chute la!
then he just pick it up with tissue and throw it down again lor
haha, what will i do without my ah gong la!
anyway, the last episode of little nonya was okay nia la
i still wished for yueniang to be with chen xi!
i imagined some ending like maybe yueniang marry the angmoh first
then after that he died early
then end up marry chen xi again
something romantic like that
but dun have la, they were really not meant to be...
SO SAD!
the episode felt abit rushed though
i think they could have extended it by one more episode
show more of the ang moh husband and stuff!!
and like what happened to chen xi after that!!
after the show i went to my room mah
then my mum help me pour water and stuff
then she said
"huh! in this time next week, we'll be on the way to the airport le!
i'll really miss you leh girl! dunno how lor!"
haha, well, as usual la
last time, jc period, i keep studying out
then she'll also msg me that she miss me
sometimes sch camp then a few nights never go home
then she'll also tell me she miss me alot
this time it is like almost 6 months
well, dunno how she gonna tahan.... =S
okay, tml i've to wake up early!