so today was mfps outing
i went to town earlier cos needed to buy stuff
(end up found out i bought wrongly -__-")
went to meet zh first before heading towards
kbox
10 of us went to kbox, like
3 gals 7 guys
proportion abit wrong hor
considering our 6A class had like 25 girls, 15guys
and if include like 3A/4G class proportions...
well, technically should be more girls eh!
oh wells!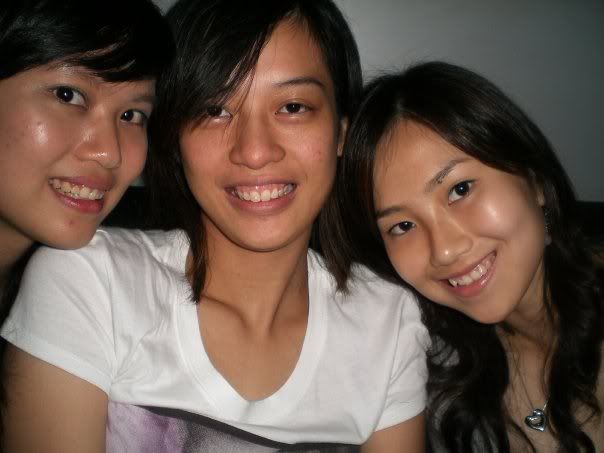 the 3 girls at kbox
met a few pple whom i've not seen in a long time
actually mainly is 2 pple nia la, haha!
david and vinnie lor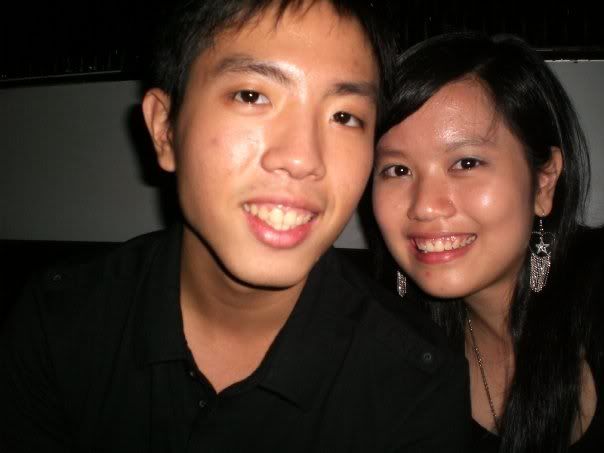 picture with david, who stays 2 blocks away from me
din take a pic with vinnie
he sit quite far away, and close to other pple
so i din get to talk to him at all leh
but basically, i talked to all the other pple lor
me and gj
hahaha, dun act cool la :P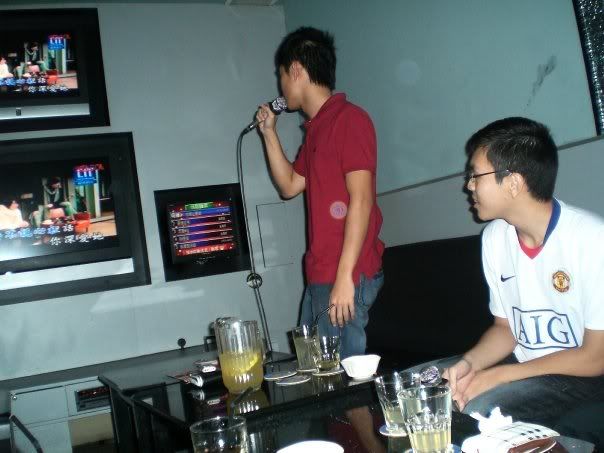 zs in red, vinnie in white
haha, zs need to stand up to sing one
then got qing diao or smthg
haha, he v funny la!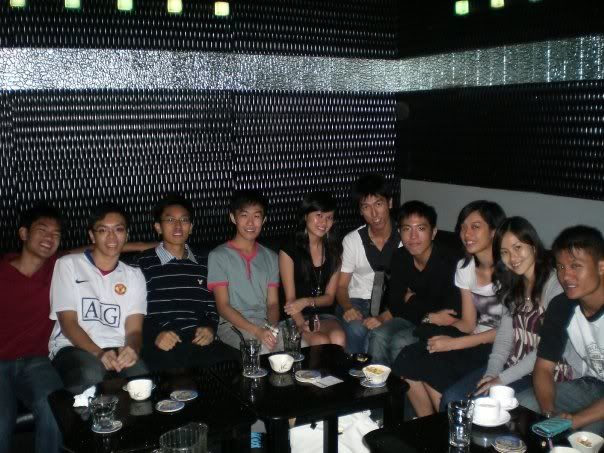 us at kbox
from left: zs, vinnie, wj, kk, tracy, zh, david, mel, sw, gj
so from kbox, we moved to
centrepoint ichiban boshi
idiot lor, i checked on the website, it's called ichiban sushi leh!
it changed name ar?! ughs
and we had a hard time finding it la!
cos it's at the prima taste that side u know
need to take escalator down, walk abit, then take escalator up again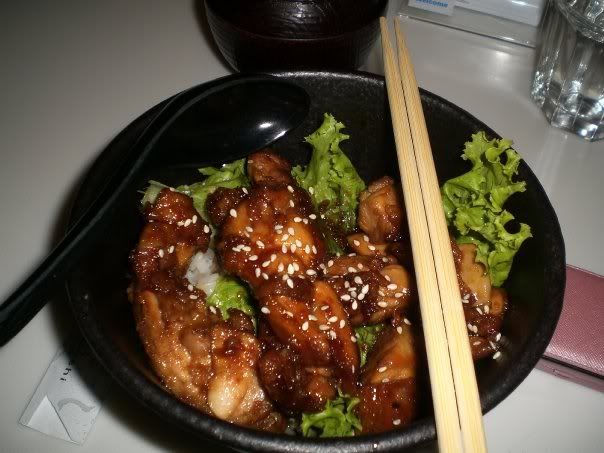 my pathetic $10.90 chicken teriyaki don
where the meat was so tough la! sux man!
as compared to kk's $17.90 meal
wah lau, damn worth it la! like two different dons!
ughsssss!
i seem to be always ordering food that are not worth it these days!
rmb the chicken teriyaki pizza at waraku?!
wah lau, i always order the
WRONG stuff
in jap restaurants -__-"
like so suay la! :(
had to split up for the seating cos they couldn't accommodate all 10 of us
vinnie left, sarah joined us...well, which still equals to 10 pple
just that now is
4 gals, 6 guys
lor
we initially wanted to squeeze, and it was possible to squeeze!
but the waitress told us that the trays will be too big la
so oh well, seaparate lor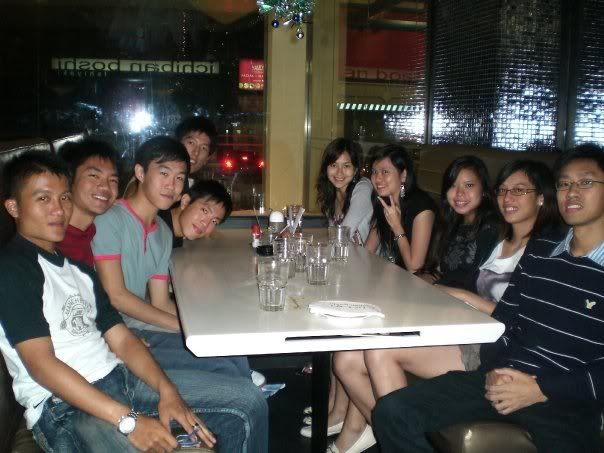 group pic at ichiban boshi
so after that, from centrepoint,
we headed towards fortcanningpark for b&j chunk fest
it was a bloody long walk okay...
the sole of my feet were kinda hurting alittle
cos i was wearing new shoes
haha, cheap mondo pumps that i got from fareastplaza! :D
i'm happy with my buy lor!
cheap and not bad things rocks man! :D
yup, and finally, finally, finally!
after climbing the steps, and walking up the hill,
and listening to the music to guide us to the location...
we arrived at the chunk fest!
i like this pic la! :D
even though we were pretty unprepared (except me, of course :P)
sw looks even shorter than normal cos kk pushed her down
and gj totally not looking at camera, haha
so when we went in, we saw alot of pple la
kk met his friend, and ask his friend where's the icecream tent
which turned out to be behind
so we walked more steps and more hill, up to the top
and trailed to the back of the queue
which was
SUPER at the back
la!
and it was
FREAKING hot
leh! :S
so, we left the chunk fest in
15mins
like climb so much and so fast leave...
haha, but it was really too hot la
and the queue was so long that we'll probably get our icecream at 11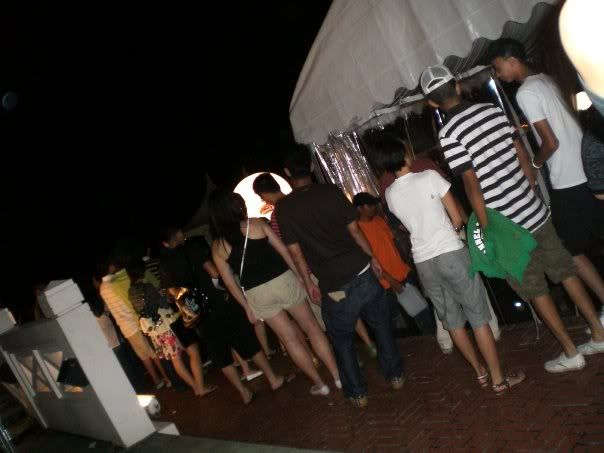 the long queue!
sw & tracy at the end of the queue :(
so we decided to walk back to ps there lor
but changed our minds and went to The Cathay B&J instead
mel and sarah left before that
which leaves our ratio as
2 girls, 6 guys
we were v lucky to get a seat at b&j
considering there were 8 of us la!
yups, and we ordered 2
cloudof9
we waited super long for it lor!
cos the b&j girl was having a hard time scooping 18 scoops of icecream for us!
and we ordered every single flavour there :s
quite pro eh
i've tried every single flavour le!
then we just sat and talked about random stuff
hahaha, david was damn funny la!
i was like...HAHAHAHAHA!
and he even carries his old student pass around!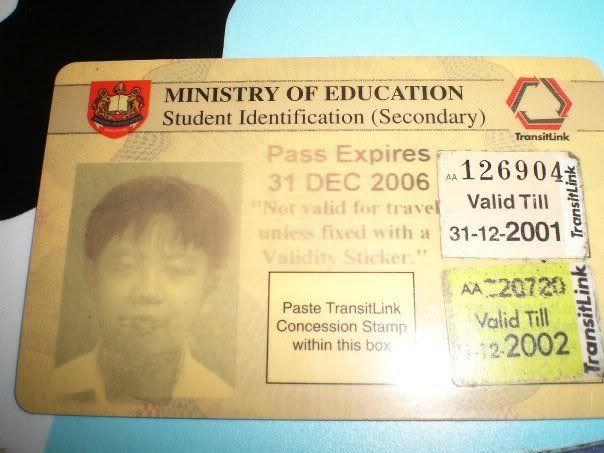 like how ancient is this la, OMG!
hahaha! damn funny la!
then after that it was time to head home lor
else later no bus/train le!
wah, quite nan de like so many pple take train with me la!
like all the guys lor, cos they stay amk area mah, wj in bishan
actually last time sw stay in amk too de!
but she "betrayed" amk la, hahaha! moved to ulu punggol =P
hahaha, the train ride was like funny la!
talking about random p.sch incidents
about pri sch autograph books!
i still have all of them, i think i've like 5?! not sure la
it's quite funny to re-read them u know
good memories :)
then david was telling us about how mel wrote her admirer's name in his autograph bk
in code of course
but it was such a lousy code :P
cos it was SO OBVIOUS LA! like omg!
hahahaha! damn funny lor!
and since david stay 2 blocks away from me,
so got pple to take train with me to yck, and then take bus lor! :D
haha, and i end up walking to his block first then i walk home can -__-"
wad's happening man, thought should be the other way round!
but it's more shun lu from his block to mine la, haha!
okay, tml is major spring cleaning day!
actually today i packed my wardrobe already
changed the arrangements of my clothes
cos my mum complained that there are no more hangers...
i realised i got tons of spag strap and sleeveless la!
in which i seldom wear le!
i'm gonna wear them more often la!
must like try to everyday wear something different :D
i'm super tired
waiting for my transfer of photos to gj to be complete!
cos just now he d/ced when it was like 1/4 left! ughs!
oh well, nitex pple :)