today was such a hectic day!
went to amk, toa payoh and orchard!
went to amk in the morning with mummy
headed to
uob
first to enquire about sup cards
wah lau, stupid one leh
need to be
21 years old
then can have!
unless ur reason is that u're going overseas to study
which i am la...retarded anot....
(however, i've just checked online
and u only need to be
18yearsold la
!
stupid woman at uob
i still like diao her and tell her it's retarded can
and she still insist 21yrsold)
then amk hub there got Bega sale
my mummy like mah
wah lau, the salesgirl keep taking for her
then she also like
astonishingly, i took 1 only, and mummy took 1 more for me =S
then we chiong to the dentist
cos both of us got appointment
and the dentist say my teeth is fine! =D
haha, i damn happy
i never get drilled before!
so he did the usual washing and stuff la
then i went to posb to deposit money
shun bian help mummy ask about the posb everyday card
why is it that all bank tellers think u need to be 21 then u can have a sup card?
i open up the form
and point to him the sentence which said 18 and above
in fact, it was printed BIG BIG on the form that u only need to be 18 and above
RETARDED PEOPLE
GET UR FACTS RIGHT CAN!
then after that went to safra toapayoh
cos there got winter wear sale la
it was in the newspapers
and it's really quite cheap!
but i think most of the things from malaysia la
bought vacuum packs and heat warmers
which were like...CHEAP!
mummy still considering whether should get thermal wear anot
or just borrow from my aunt
but she say have more sets better la
cos obviously need to wash wad...
then we had lunch at the mouth restaurant there...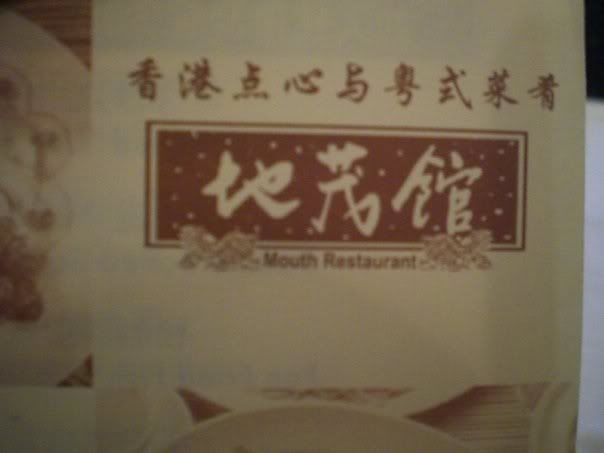 which was SUPER DISAPPOINTING!
the e fu noodle there sux man!
last time i ate before at j8, it was SUPER NICE leh!
this was like.....sucky! and ex!
should have gone to taka crystal jade instead...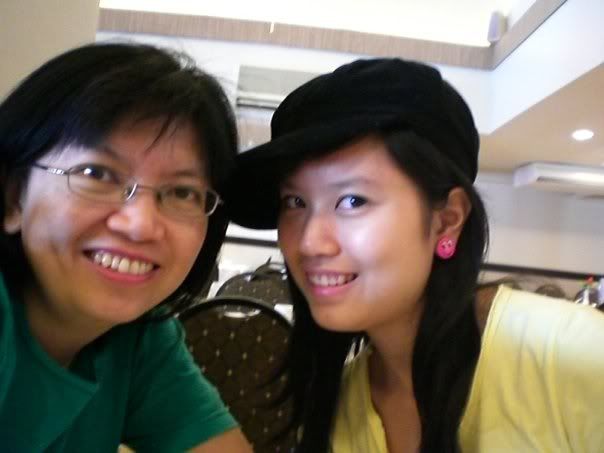 abit blur, cos we both have shaky hands...
and i'm wearing my happy earrings
cos i'm still very happy! =D
*BIG GRINS*
then after that parked at toapayoh hub
then my mum went to drop some cheque
while i checked out some clothes sale
which was super cheap la! and quite nice!
maybe quality not v good la
but who cares
this type of thing, v fast change one u know! =D
yeah, so we bought blouses and dress there also!
then took mrt to orchard, and headed to taka for the talking hall sale
yups, bought a travel bagpack
which was already cheap le, and this weekend got 10% off somemore!
and my mom bought some container thingie la
din spend any money actually
cos i used my gift vouchers! =D
worth it worth it! =D
then taka b2 got some brands sale la
and there were like SO MANY PEOPLE and so many things!
but we were too tired to chiong with the crowd u know
and no money le la! haha!
and so, it was home sweet home
after grabbing some hair accessories from tp
today's 收获:
- 5 blouses
- 1 dress
- 1 travel bagpack
- 1 comb
- 1 hairband
- 1 shades
- vacuum packs
- heat packs
okay la...
should eat dinner soon
and then battle with peachtree and finance le!
tml is like totally burnt :(