okay, gonna briefly update before i start my tuts!
sunday went for In Song 08: A little gather'ng!
it was held at nus yst conservatory... i thought that's ucc la!
haha, yuan lai sch got another concert hall eh =P
it was like a horribly rainy day la!
and went from like clementi to holland v to find flower
stupid rain lor!!!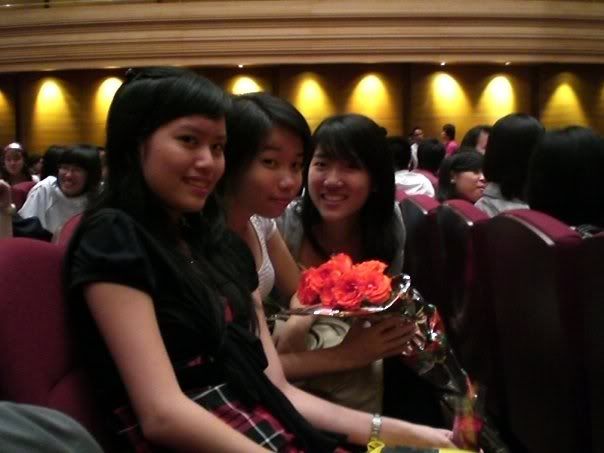 hahaha, jo and lq funny lor!
they bought one bunch of flower
and had to wrap it up themselves!!
they were super pai seh...hahahaha!
people who went:
zh, gh, lq, jo, tracy
to support our jj!!! hahaha!
who basically hid behind alot
except for california dreaming in which jo exclaim
WAH, THAT'S JJ'S VOICE AR!
hahaha!
yayness! :)
haiz, as u can see,
my fringe is still desperately in need of GROWING!
oh wells! :(
these few days have been busy
and i've been super tired, and my eye is SUPER RED!
i'm gonna sleep early again today!
and FINANCE TXTBK IS FREAKING PATTERN LA!
i din buy txtbk mah, cos, erm it's not open book
and i think lecture notes good enough
so i went to the lib, and photocopied all the questions needed for tutorial la
BUT!
the book that lib have, and the book that bookshop have, it is slightly DIFFERENT!
like the questions are the same but values are
DIFFERENT!
WTHHHHHHHHH! :(
i need to redo my tut 1 again!
and reprint ALL THE TUTORIALS AGAIN!
FED UP MANNNNNNN!
and biz comm report is such a drag
how come so difficult to do ar
yuan lai it's so hard to come up with a feasible problem for customer service!
stats report was SO MUCH EASIER to do!!!
argghhh! :(
okay, i shall go do my tuts le :(
and erm, watch ming zhong zhu ding wo ai ni last episode! =P