yayyy! work has ended! =D
i'm like so happy!
shall do all my blog updates now!
and i think i need to do a new blogskin already!
because now ritex, i upload photos on photobucket
then transfer over
and the pics are like too big!!
and i lazy to shrink them or to re-upload them again!
25 July 08
last day of work! and we went to work late!
because we had to drop by ymca to collect stuff for challenge
reached ymca super early, but the booth was not up yet
so we went to starbucks to rest awhile first
oh, and my good mood was kinda destroyed for awhile
because gh said i looked like i am from kindergarten
cos i was wearing my white sneakers -__-"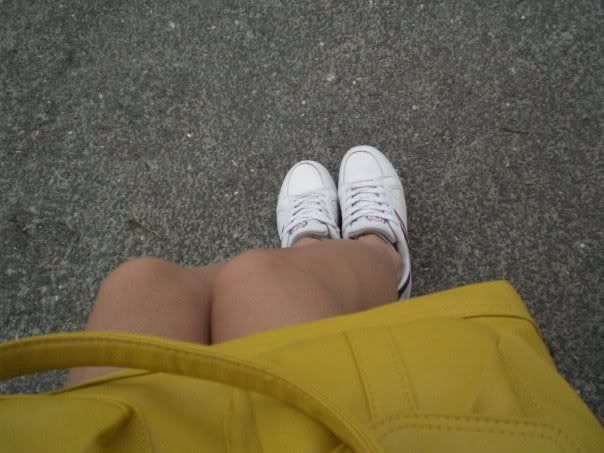 no choice can!
i had to climb ladder to put up the posters lehhhhhh!
(which in the end i din have to do that la, was tall enough lor,
stupid boss)
after collecting the stuff, we headed for work
and i was like quite excited eh!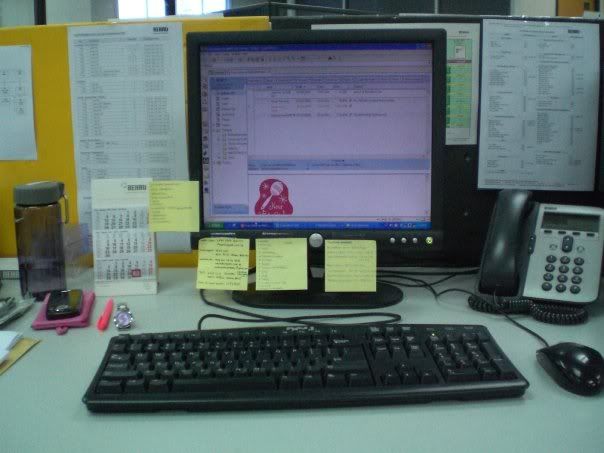 looks at my desk for one last time
so glad not to see it again!
and i bought royce chocs for my lunch gang!
well, i also got offer to my boss la
nice anot ehhhhhh
yup, and in the end, the posters thing
we got the construction workers to help us to put them up
cos the paint smell was too overpowering for us!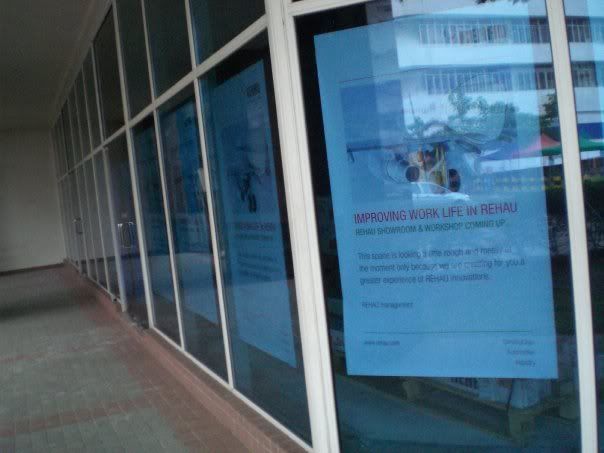 sidenote:
my lunch gang is really nice people la!
cos i told them that i had to put up the posters in the showroom
then they told me, dont go in alone
cos the construction workers live INSIDE there
they have their makeshift beds, clothes line, blah there
then they say just in case la, dun go alone, later kanna rape or what
so rachael say she go with me la
nice anot la!
unlike my boss
she just ask me to go and paste stuff
totally dun worry about my safety at all eh...
yeah well, subsequently, it really came down to the last few mins of work!
sent farewell email to the lunch gang
sent my internship feedback form to hr
threw my access pass back to hr
and my boss din even say anything to me before i left
sux man.... i mean, seriously
wth la!
yayyyy! then we went to fish&co for dinner!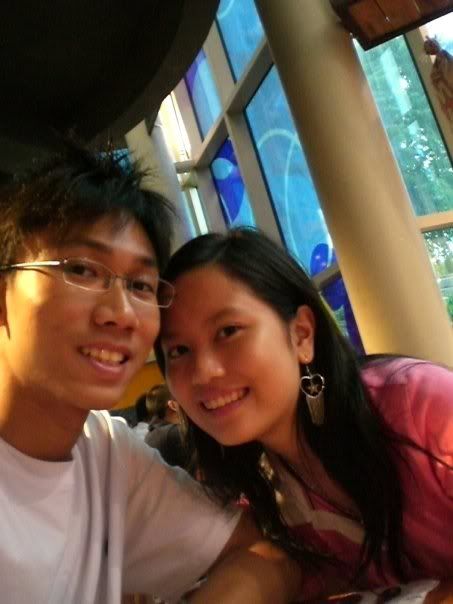 during first day of work, we also ate fish&co mah
so the last day, we also went fish&co!
well, actually wanted to go manhattan
but...CLOSE FOR RENOVATION TILL 31ST JULY! :(
so sad laaaaaaaa! :(
i was looking forward to my flaming prawns! :(
after that, gh gave me a surprise! :)
cos in my previous previous entry, i was saying i need fireworks to celebrate
but sparklers also can!
and he really bought sparklers for me la!
haha, it was a nice surprise
cos actually we were headed towards the national museum
then we walked thru fortcanning la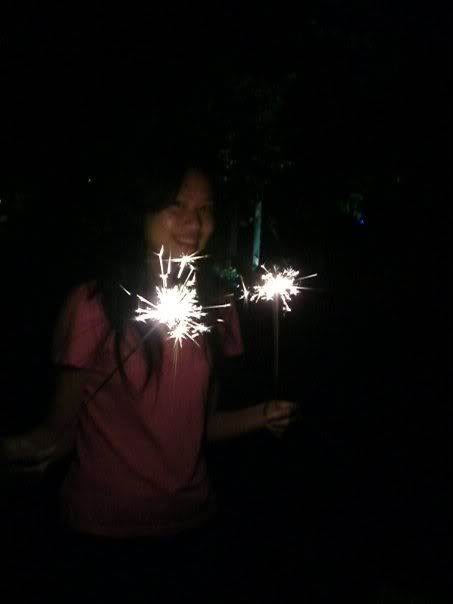 yayy! my sparklers! :)
after that, we tried to head into the museum
then dunno how to get towards the front
cos there were alot of barricades and stuff
so we went in from the back
and what do we see...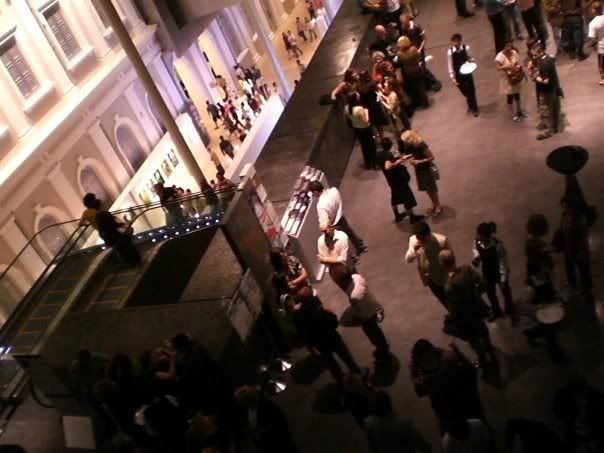 so many people wearing formal wear,
drinking wine, talking around!
we had unknowingly crashed into a private event!
haha, sux man, what by invitation only
security lapse la!
and people see us wear until so pok hor
also no one come and stop us leh!
yup, then we headed outside for the open green
cos they were screening Hairspray there!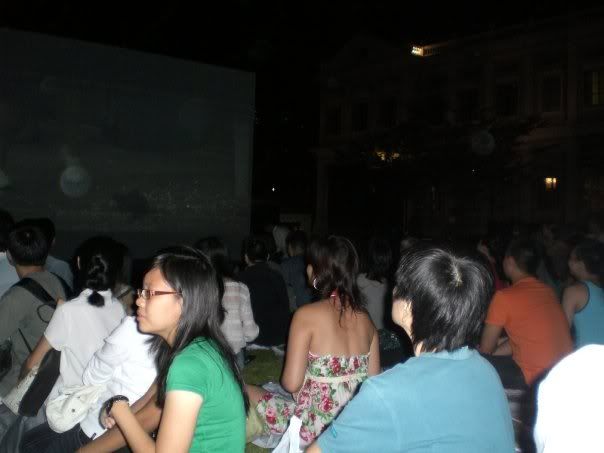 super alot of people la!!!!
initially had to stand, and my legs were like BREAKING!
end up got abit of place to sit though, so thankful!
i watched hairspray before already
but it was nice to watch again in the open
then everyone still cheered and clapped!
all this was in conjunction with
night festival 08!
i wanted to see the aerial dance performance last week
but din have time, cos i ended at the nlb sale
oh well... never mind la
then after the show, there was this official launch of the museum lightup!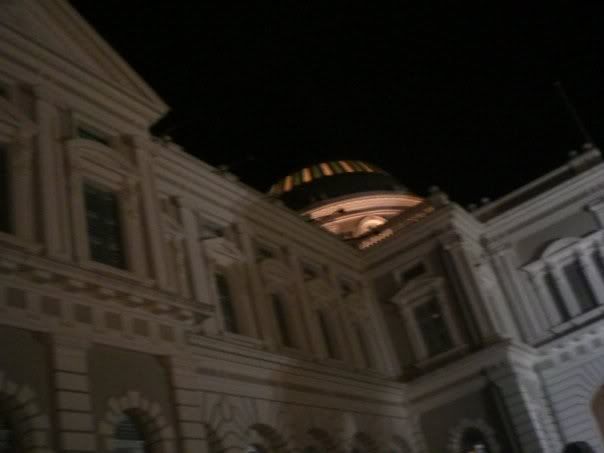 from this...
to this!!
WAH, SO NICE LA!
everyone whipped out their cameras lor!!
and there were alot of OOOOHs and AAAHHHs!
and it changes colour every dunno how many min!
my mum said there are 10 colour changes in total though
i din get to see all though
mainly kept seeing the white one
it looked FANTASTIC!
here are some of the colours i saw: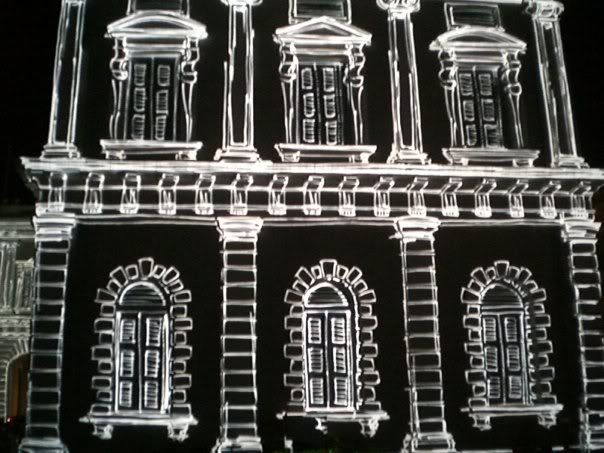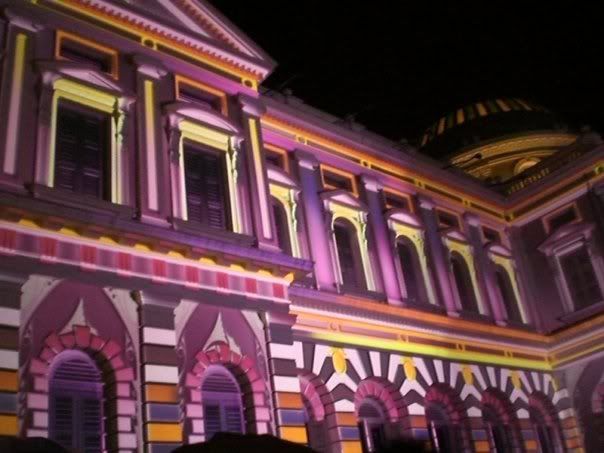 NICE EH!!! =D
aside from all this, there was also this percussion troop
made of 100 percussion members playing the drums!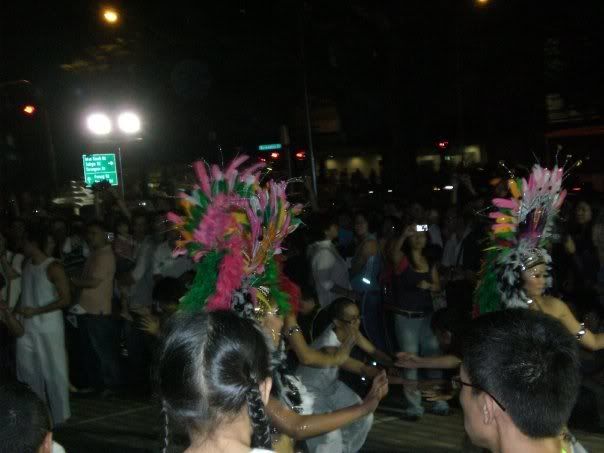 dancers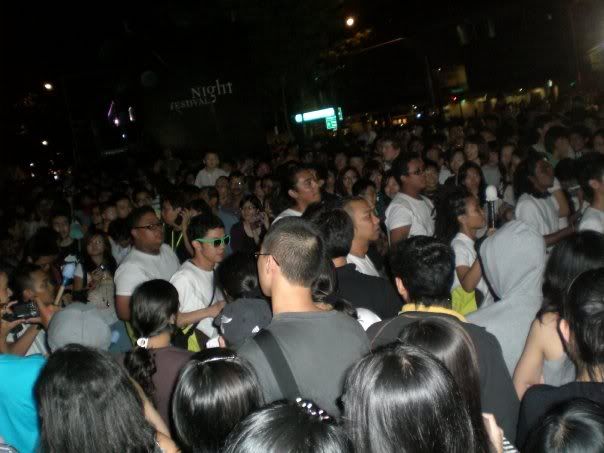 percussionists
gh took a video of the drum performance la
but i lazy to put it up
hahaha, the file was super big leh!
and even after i trimmed in by more than half
it was still 79.2mb!
there was also the beatnik party by zouk opp at the smu green
din go though, not interested, but there were alot of people around!
and there were also a few luxurious car parked outside the museum
and apparently there was someone guarding them!
so rich la these people!!!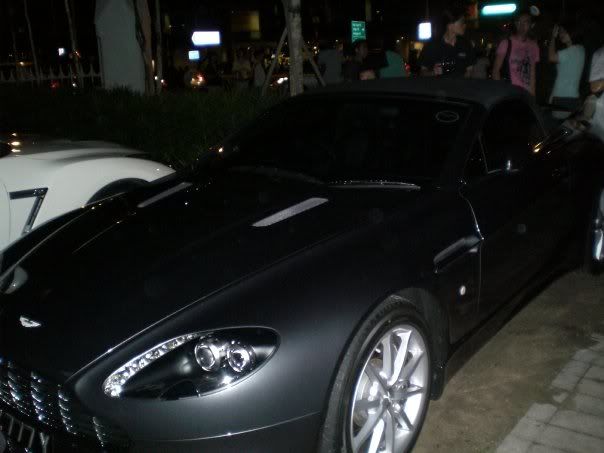 aston martin
james bond car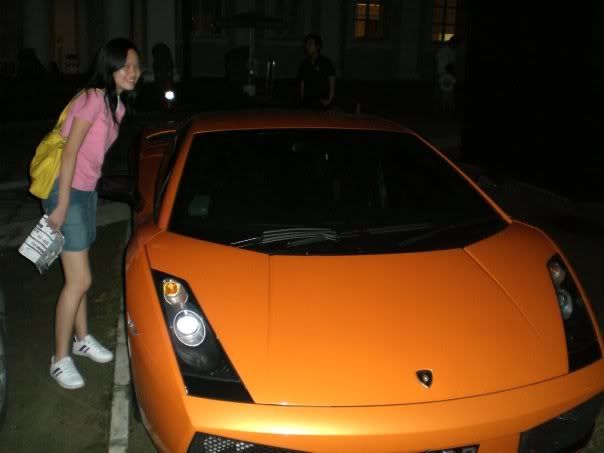 orange lambo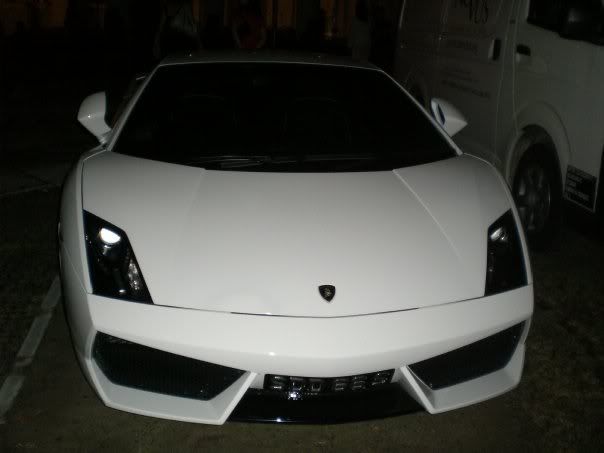 white lambo
i think the white one nicer eh
white mouse! =P
yayy! it was such a wonderful night
except that my feet was hurting
and i wanted to like sit down, haha
and also cos, next day have to work again! part time!
haha, so couldn't stay too late!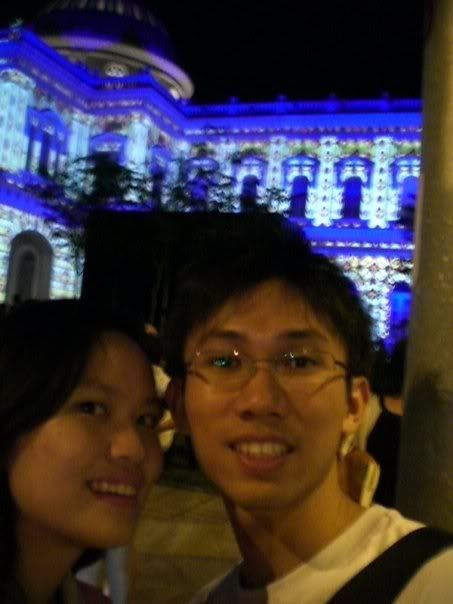 night festival 08 was really really pretty! =D
26 July 08
went for the gureilla marketing attack!
9 of us signed up together
me, gh, grassy, teng2, zihao, jiejun, jiehui,
liqing, jiehui's fren shujun
yup, but mich and huiyan also happened to be in the same team!
and also jiahui from oweek group
and also 2 other cedar seniors whom i recognised!
well, outta a group of 30, i amazingly knew quite alot of pple =P
hahaha!
met zh, gh, grassy earlier at macs to eat abit first
cos there was no proper lunch hour mah
then we went to the mrt to meet up with the rest
boarded the coach and we were separated into our groups!
had to wear like this ugly shirt and cap (looking like factory workers)
and also carry this boards thingie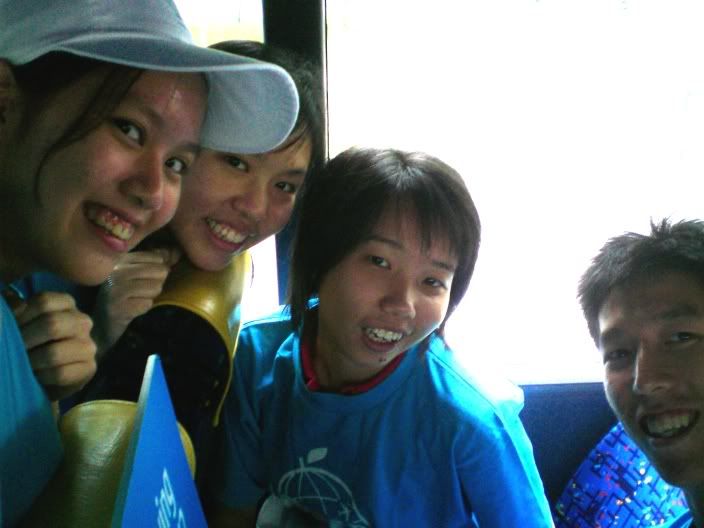 tracy, jj, lq, zh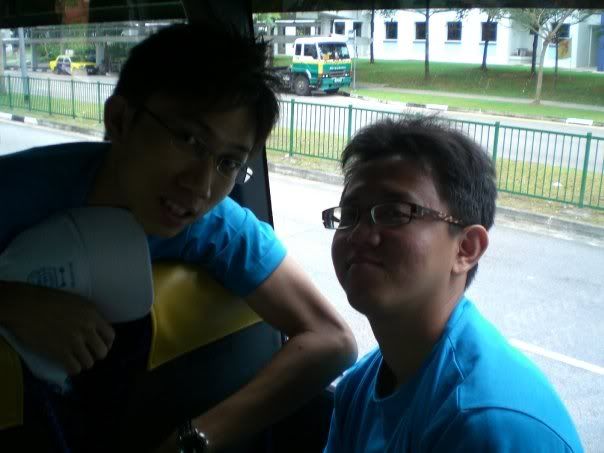 gh & grassy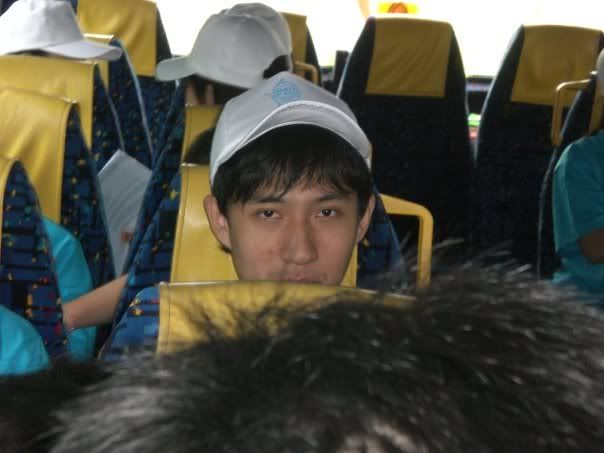 teng2 being very bored behind initially
until he started to talk to like everyone else la!
pro anot!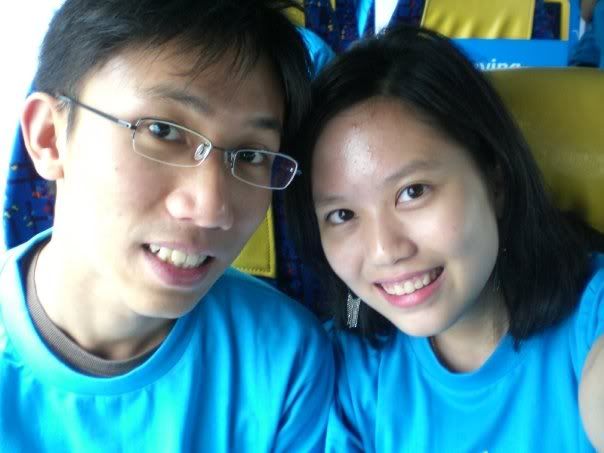 gh & tracy
yup, we had to go to various supermarkets
and pretend to buy food (for our group, we really had money to buy though)
and like be walking advertisements kinda
haha, okay la, it was quite routine
and they provided good welfare eh!
still buy bread for us and stuff! =D
and we were given 10 bucks per group to spend la
so i had the 10 bucks, and i asked everyone what drinks they want
(to gh)
tracy: eh, what drinks u want? green tea can?
gh: okay lor
(to grassy)
tracy: eh, what drinks u want?
grassy: anything lor
tracy: green tea can?
grassy: okay can
(to jj)
tracy: eh, what drinks u want? i got 10 bucks for the group
jj: oh, drinks ar..... i want
APPLE CIDER VINEGAR
*tracy fainted on the spot*
simi apple cider vinegar la!!!
hahahahaha!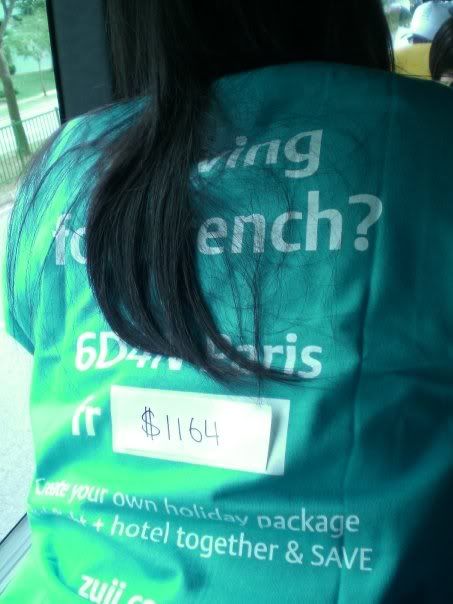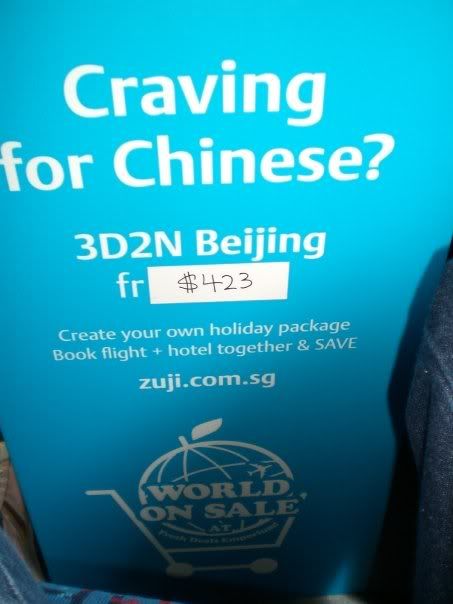 i was damn cheap compared to jj =P
and we had this sch bus to bring us around
wah, like excursion! magic sch bus!
den people very tired, keep sleeping on the bus after every stop
but no leh, i was very energetic lor
except leg suan only!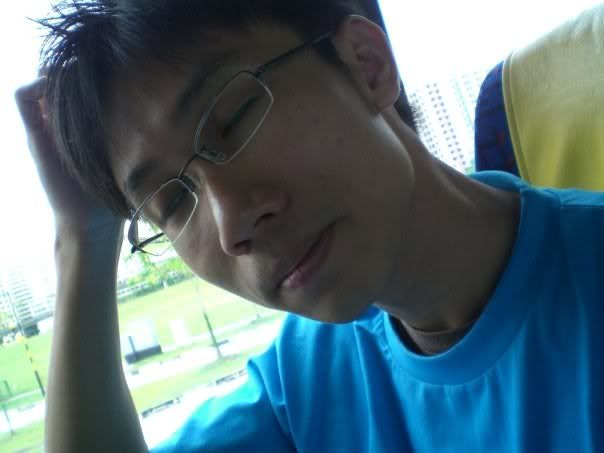 fake sleeper
hahaha! jj behind =P
yups, after everything ended,
we took quite long to decide where to go and eat and stuff
in the end, we joined gh they all
then we walked to selegie to eat tauhuay
which was not fantastic at all...
then lq went to meet her mum
jj went to her grandma house
so the rest of us went to suntec city
then zh can buy his singapore garden festival tix
using my student card...so cheap cheap eh -__-"
plus safra card also, end up even cheaper eh...
then we went to marina square
cos they wanted to see asics shoes
the shop was like beyond tiny and squeezy la!
and guys try shoe very funny one lor
just try one side
never even stand up walk around
or look at the shoe mirror even...
haha, not pro la =P
decided to eat marina foodcourt
i wasn't very full la, so just went to eat chee cheong fun
which was beyond oily!
then got this national day rehearsal mah
so got aeroplanes and stuff, and everyone was staring
gh: eh! got black plane flying past, black hawk black hawk!
-bunch of gals turned-
tracy: hahahaha!
(cos it was actually a crow........)
wth la!
and then it was dessert at secret recipe before heading for
HOME SWEET HOME! =D