okay, it's time to blog about prom!!!!
PHOTOS UPLOADED!!! HAPPY HAPPY!!!
IT TOOK ME AGES AGES AGES!
so it was the
vjc sdd on 6th Dec at ritz calton millenia
i woke up and watch my lovely kimsamsoon first
before leaving the house to adjust my watch at 25hrs gallery and to do my hair
did my hair at some amk place la, cost me
$14
? =D =D
cheap cheap cheap!
and it turned out...okay la i guess
i dun realli like it
i think i'm not used to it, and it's like super curly and...ughz
abit old fashioned ya
den got those glitter glitter stuff too
after that went home
did make up myself
din wanna go for those make up artist thing de u know
cos they confirm make the makeup v. nong la
den i dun want mah
and, ermz, money la!!!!!!
so put on my usual make up...tried to make it darker than usual though
and den took a cab down to ritz at like 4.30
met
bj

,

daniel,

glen

,

seth
at the lobby
they take one look at me den............... -_-"
ah well, den
just

,

manda

, and

debbie
came in too
den we all waited for waiyip to come down and fetch us
abit ma fan horz ritz...but it's the security i guess
but i rather be free and easy u know
went up to the gals room
ehz, not bad lehz
the bed is damn big and comfy
just that i think the tv kinda like placed at the wrong angle ya
i wanna lie down on bed and watch also cannot
must twist myself to watch, so jia lat
helped around wif make up and stuff
and wif the fashion tapes and stuff
it wasn't realli that hectic lehz
we kinda had quite alot of time i guess? yupyup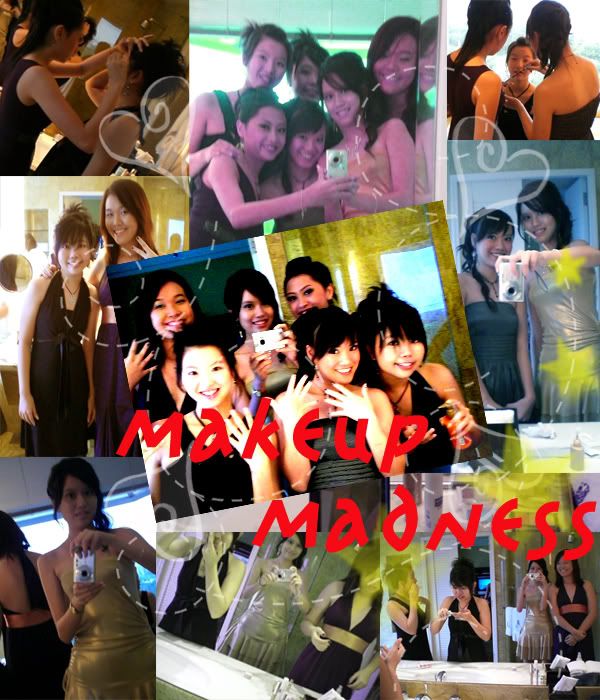 den went down to the ballroom
and it was like phototaking session on the go
take and take and take
see the flash see until eyes wanna go blind le la
den
wy
say my hair looks like
FAKE HAIR
!
idiot!!!!!!!!!!!
i somemore so nice, say his jacket v. nice to touch can!!! HMPFZ!!!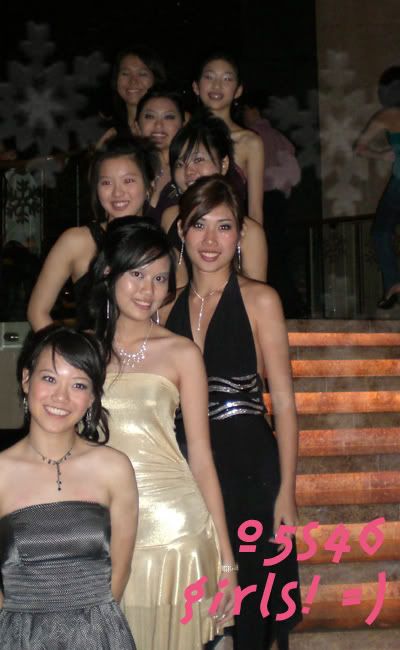 ah, okay, den the dinner began wif lousy food (which was served super duper late)
oh, the emcee was rather funni!!! i was pretty entertained by him
while pple like
wy/fj
were busy rolling eyes =P
okay, i wasn't so entertained by the team leader part ya =P
pple busy trying to hide her face cos of the class guys.....
phototaking resumed, and this was how the night went lorx
got a few bored moments here and there
and a few funni moments like taking videos in the toilet
i'm like trying to find somewhere other than youtube to upload the videos
photobucket is freaking slow, but i'll probably try it again =P
cos got one of my file is like 109mb ya =S
skali put on youtube, den too mani hits, den abit paiseh u know =P hahaha!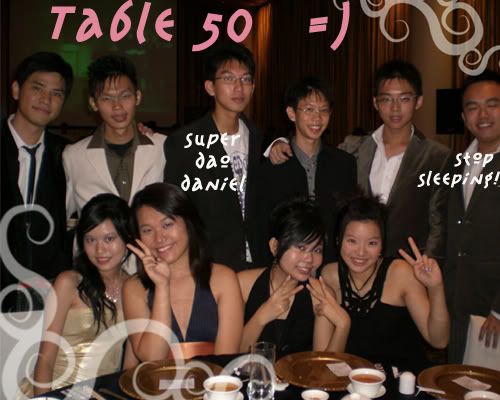 oh yes, and both our tables din win ANYTHING can
so sad!!! there were like so mani prizes la!!
even some stupid prize like vacuum cleaner?!?
jeremy
won a CK perfume la, but he not at our table
so lucky can!!!
1st prize: trip for 2 to perth (3 days 2 nights) accommodation included2nd prize: cruise for 2 to (ermz, dunno where) <-- jessie won! 3rd prize: ermz, i forgot =P
but the prizes were WOW can!!
omg la
but, i din get a thing la
haiz, lemme win a $20 voucher i also happi can =P
ah well, no luck means no luck la
went back to hotel room and changed
slack around abit
went to the guys room see see
well, they got scolded by the security, well done
so we decided to leave the hotel room
and walk all the way to
clark quay
ermz, i was like damn tired can!
was yawning like mad la
but my heels din realli hurt yet, so not that bad
ah well, den
me, debbie, fujing, peiwen, lynne
went to MoS
10metres away, i already see the entrance like hazy hazy la
walk in horx, PSI = 300 la
i think my life cut short by 10yrs le la!!
so anywaz, me pw and debbie left after 20mins
y lehz?
me = i can't stand the smoke
pw = i can't stand the lights
db = i can't stand the music
so went to find the guys at macs
rest awhile, eat icecream
den they bought vodka, okay, wy bought la, he paid mah
well, since i cannot drink (doc say i got alcohol allergy cos i drank last yr christmas)
so ermz, if lose den jfoo drink for me lorx =P
i think i need to try alcohol one day again, prove whether realli allergy anot
maybe this year christmas ba =P at my uncle's hse
i not so willing to try during the prom day... cos, ermz, next day going out la =P
i can't possibly miss 2N outing just cos of some stupid allergy kz!!!
well, anywaz, jfoo drink till realli
HALF drunk (edited)
la
so jia lat =(
the game was rather funni actually, haha
wy's game, wy's rules, good thing wy also got drink too =P
jfoo keep saying he's okay la
but then... aiyoh, apparently collapsed in the hotel room
and daniel had to help him to take of his shoes, and he still said "thanx ma"
well, the "thanx ma" part was pretty funni la =P
couldn't realli sleep the whole night
pass my sleeping train le la
just close my eyes onli lorx
cos i forgot to bring spects, den kinda blind u know...wanna watch tv also cannot
but i ended up sleeping half an hour at least la
cos i was waiting to take a bath mah
after bath, watched abit of asian games
wait for the guys to wake up
well, daniel was in our room awhile, cos he was locked out by
sleeping pigs
=P
den checked out and went marina square for lunch lorx
well that's all to prom ba
please go visit my
photoblog
which has many photos
ermz, i'll upload the videos soon too
please dun laugh too hard ya =P